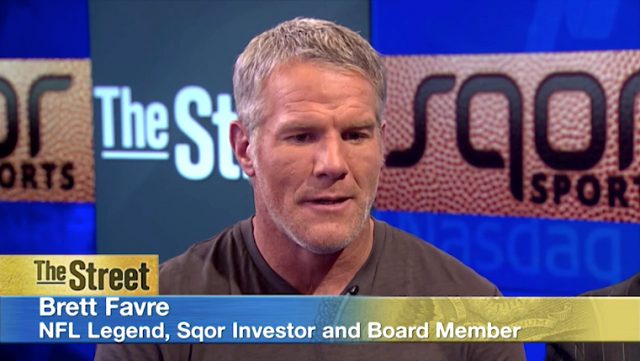 Legendary NFL quarterback Brett Favre is being sued over allegations that he conspired with business partners to fraudulently induce an investment company out of more than $16 million.
Filed by Callais Capital Management ("CCM"), the suit claims Favre and the executives of Sqor Sports made negligent and fraudulent misrepresentations in an effort to secure CCM's investment.
The plaintiffs claim their $16.75 million investment was made in order to help Sqor "fund immediate international growth and allow the company to secure up to 10 major Sports Enterprises over the next six months."
That apparently didn't occur. Neither did an alleged expectation that Sqor would raise up to an additional $9 million–for a total of $25 million in equity capital, according to CCM. Sqor's alleged inability to obtain the promised total amount of seed money soured CCM's investors, who claim they were shown a growth chart promising income in excess of $44 million for all of 2018.
Their lawsuit also claims Sqor "materially misrepresented" their user base of 325 million fans and their social media reach of 350 million impressions. The suit goes on to claim that Sqor "went so far as to misrepresent" growth in excess of high volume social media giants Twitter and LinkedIn.
Favre's inclusion in the suit is allegedly due to the former quarterback allowing his social media followers and reach to be conflated with that of Sqor's–and therefore contributing to Sqor's alleged misrepresentation of their social media impact.
The suit also dings Favre for allegedly accepting equity in the failing company, private jet use and monetary payments. Sqor's website is currently down and the company hasn't posted an update to Twitter since May of 2017, according to The Blast.
Per that report, Sqor claimed to have been in negotiations with the Los Angeles Lakers, Chicago Bulls and other NFL stars to join their nascent social network. Apparently, CCM was also told that Sqor had entered into a verbal contract with the NFL Players Association that would soon lead to an official partnership.
Additionally, CCM claims Sqor misrepresented other athletes' use and endorsement of the platform–including Conor McGregor, Rob Gronkowski, Odell Beckham Jr., and Allen Iverson. Apparently, however, all of the above claims were made in error–or were simply false–according to CCM.
The lawsuit's claims hinge upon alleged violations of the Securities Exchange Act of 1934. The plaintiffs are requesting the return of their initial $16.75 million investment–plus damages.
[image via The Street screengrab]
Follow Colin Kalmbacher on Twitter: @colinkalmbacher
Have a tip we should know? [email protected]