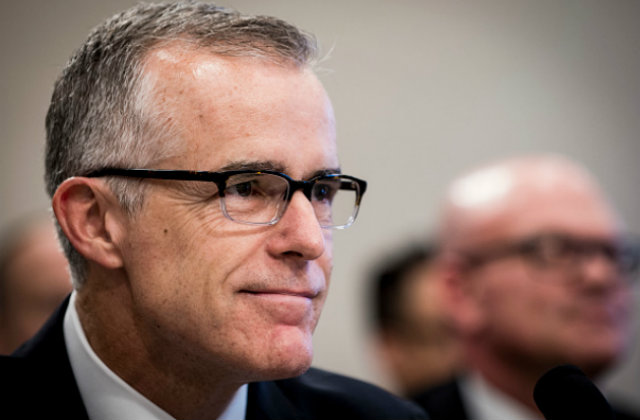 FBI Deputy Director Andrew McCabe already planned on retiring, and that process is now beginning, according to Pete Williams of NBC News.
NBC's Pete Williams: FBI Deputy Director Andrew McCabe stepping down @MSNBC

— Jesse Rodriguez (@JesseRodriguez) January 29, 2018
Expect the president to be pretty happy about this. McCabe previously served under fired Director James Comey and served as Acting Director until the confirmation of Christopher Wray. McCabe has been a favorite target of President Donald Trump and other conservative pundits. Even before Election Day 2016, the president's campaign harped on political contributions from Clinton-ally Terry McAuliffe's political action committee to McCabe's wife, a former Democratic candidate for the Virginia state senate. They used this detail to argue the Clinton email probe was biased on Hillary Clinton's behalf.  Trump accordingly went on a tweet storm when The Washington Post released a report saying McCabe planned to retire next March.
If Wray resists Trump pressure to remove McCabe until McCabe becomes retirement eligible and steps down on his own, that should not be seen as any kind of house cleaning. It is what people who care about the institution have been hoping for.

— Benjamin Wittes (@benjaminwittes) December 23, 2017
Monday's news doesn't seem to technically change that plan. A report from CBS says that McCabe will go on leave, and he will officially leave the government in March as expected.
Source tells @CBSNews's Pat Milton that McCabe was forced to step down. He's currently on leave and will officially retire in March.

— Julianna Goldman (@juliannagoldman) January 29, 2018
[image via Pete Marovich and Getty Images]
Have a tip we should know? [email protected]