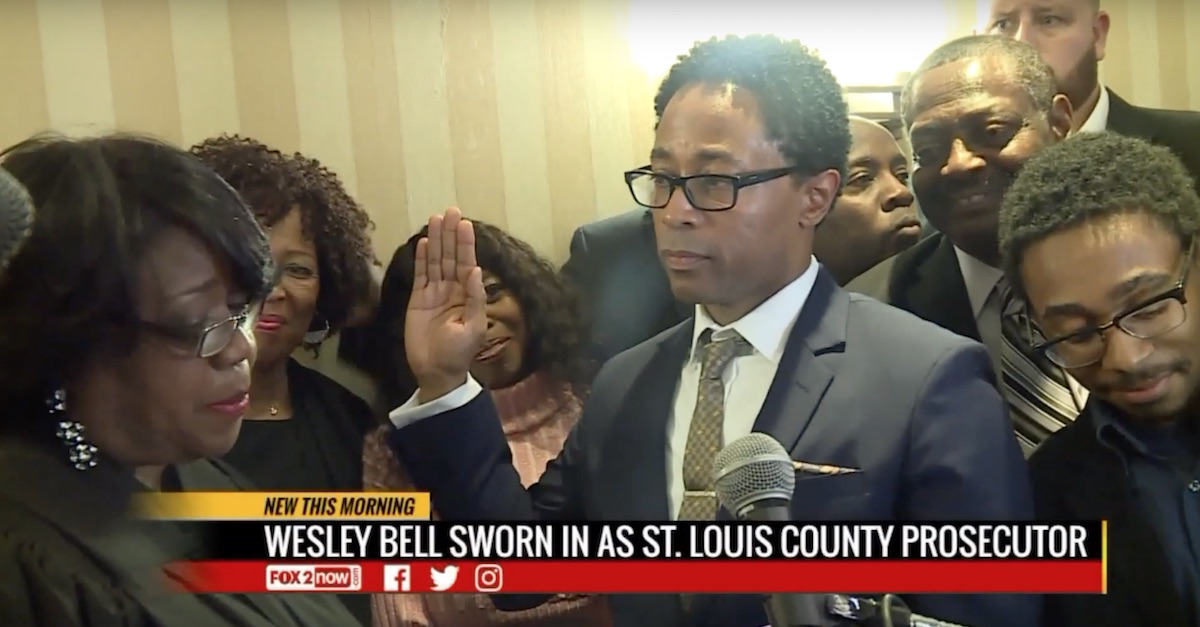 There's a new prosecutor in town and he's already shaking things up in St. Louis County.
Former Ferguson councilman Wesley Bell, who defeated Democrat Robert McCulloch in the Prosecuting Attorney election by a considerable margin last year after vowing to "fundamentally change the culture," fired veteran assistant prosecutor Kathi Alizadeh on his second day in office, the St. Louis Post-Dispatch reported. McCulloch, who was head prosecutor since 1991, drew national scrutiny for his handling of the Darren Wilson–Michael Brown case.
The ex-cop Wilson shot and killed Brown in 2014, sparking intense racial unrest. When McCulloch announced that a grand jury would not indict Wilson on murder or involuntary manslaughter charges, violence and protests erupted in the streets of Ferguson.
"As tragic as this is, it was a not a crime," McCulloch said at the time. "It doesn't lessen this tragedy. There is still a loss of life here. The family is going to have that loss forever.
"No young man should ever be killed by a police officer. And no police officer should ever be put in that position," he added.
It was Kathi Alizadeh's job to present evidence to the grand jury that ultimately decided not indict Wilson. According to the Post-Dispatch, Bell handed Alizadeh a two-page letter justifying her firing, but the contents of that letter have not yet been revealed. Alizadeh, for her part, said she would be talking to her lawyer about this.
She had worked in this office since 1988. Bell said that two other individuals have been sent packing, but did not elaborate. Another assistant prosecutor who has been in the prosecutor's office for decades has learned that he has been "suspended pending a termination hearing."
Ed McSweeney, who had been on the job for 34 years, noticeably criticized Bell for his lack of trial experience after he defeated McSweeney's long-time boss McCulloch. McSweeney described McCulloch's defeat as "shocking" and predicted that voters would "regret" electing Bell.
"My boss was shockingly defeated in Tuesday's primary after 28 years. Defeated by a Ferguson councilman with no trial experience," McSweeney commented in August. "County voters will soon regret what they did. We are going to turn into another STL city."
A spokeswoman for Bell answered responded to this by saying Bell "has been a litigator for seventeen years" and had "tried over 75 misdemeanor and felony cases, including 30 to 40 jury trials." Bell did not have experience as a prosecutor but as a defense attorney.
[Image via Fox 2 St. Louis screengrab]
Have a tip we should know? [email protected]