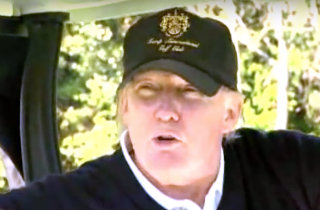 President Elect Donald Trump just got some more bad legal news. A federal judge rejected a request to throw out a class action lawsuit filed against his Trump National country club in Jupiter, Florida (formerly the Ritz-Carlton Golf Club & Spa). The lawsuit is over deposits that were deemed un-refundable after Trump bought the business, reports the Palm Beach Post. A trial was held in the case over the course of two days back in August, but the judge's verdict (it was not a jury trial) is still pending. Judge Kenneth Marra said that he will rule on all of the issues at hand when he issues his decision on the trial.
Herman J. Russomanno III, Trump's local counsel, issued this statement:
Although the Trump Club would have been pleased if the Court granted their motion, it is the Trump Club's position that as to the ultimate ruling following the bench trial, that the Court should find in favor of the Trump Club.
According to the plaintiffs, before Trump bought the club and came into the picture, deposits on memberships, which ranged from $35,000 to $210,000, were refundable, only for his new management to refuse to give the money back after he took over. Possibly the most important piece of evidence is a letter that Trump sent to members on December 17, 2013. He wrote that Ritz members could "opt in" to Trump National, but only if they agreed that membership fees were non-refundable. "You're probably not going to be a very good club member … you're out," he wrote. "As the owner of the club, I do not want them to utilize the club nor do I want their dues."
[Photo: YouTube screen grab]
Have a tip we should know? [email protected]