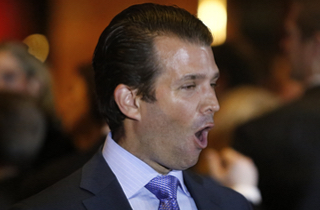 Late Sunday morning, Donald Trump Jr., the eldest son of Donald Trump, tweeted a pretty inflammatory allegation to his 764,000+ followers after reading an article online:
The link goes to an article at Gateway Pundit that includes an embedded video of someone heavily breathing while using their phone to shoot a video from Saturday's edition of "Cavuto: Coast to Coast" on Fox Business Network (full segment viewable here). In the segment, Neil Cavuto plays a short excerpt of Gina Rodriguez's recent interview with President Barack Obama, which was released Friday on Latino-targeted YouTube channel we are mitú. Trump and Cavuto both focus on a specific moment which they claim shows Obama telling undocumented immigrants to vote.
Here's the full interview, cued up to the same moment where Cavuto picked it up:
The entire interview is framed as Rodriguez answering Obama questions that will debunk various myths around voting. While the question from Rodriguez that starts the exchange at issue is not phrased as well as it could be, the excerpt used by Cavuto is missing some key context. Specifically, as the dialogue continues, it becomes more clear that Rodriguez and Obama are discussing Latino citizens' potential concerns over undocumented friends and family being discovered.
Having said that, in the clip Cavuto used, Obama immediately shoots down the premise of undocumented immigrants voting by pointing out that "when you vote, you are a citizen yourself." Here's a transcript of the entire exchange, with the part that Cavuto aired in bold:
Rodriguez: Many of the millennials, dreamers, undocumented, uh, citizens — and I call them citizens because they contribute to this country —are fearful of voting. So if I vote, will immigration know where I live? Will they come for my family and deport us?

Obama: Not true. And the reason is…first of all, when you vote, you are a citizen yourself. And there is not a situation where the voting rolls somehow are transferred over and people start investigating, etc. The sanctity of the vote is strictly confidential in terms of who you voted for. If you have a family member who, maybe, is undocumented, then you have an even greater reason to vote!

Rodriguez: This has been a huge fear presented, especially during this election.

Obama: The reason that fear is promoted is because they don't want people voting. People are discouraged from voting, and part of what is important for Latino citizens, is to make your voice heard because you're not just speaking for yourself. You're speaking for family members, friends, classmates of yours at school…

Rodriguez: Your entire community.

Obama: Who may not have a voice. Who can't legally vote. But they're counting on you to make sure you have the courage to make your voice heard.
On Sunday morning, Rodriguez responded to the controversy over the interview by clarifying the intended context for those who only saw what Cavuto aired:
[Photo: Shutterstock]
Have a tip we should know? [email protected]