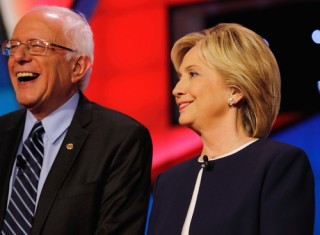 Hours before the New York primary showdown, Bernie Sanders' campaign attorney sent a scathing letter to Democratic National Committee Chairwoman Debbie Wasserman Schulz about "serious apparent violations" of campaign finance laws by Hillary Clinton's campaign. The controversy surrounds what are known as  joint fundraising committees (JFC's) which coordinate contributions between Hillary Clinton's campaign, the Democratic National Committee and about 32 state democratic committees.
The letter written by campaign attorney Brad Deutsch reads:
Bernie 2016 is particularly concerned that these extremely large-dollar individual contributions have been used by the Hillary Victory Fund to pay for more than $7.8 million in direct mail efforts and over $8.6 million in online advertising, both of which appear to benefit only HFA (Hillary for America), rather than to the DNC or any of the participating state part committees.. It is of grave concern that the Clinton joint fundraising committee appears to be using funds raised by "big-dollar" donors to fund activities that yield contributions and support that only provide benefit to HFA.
We told you on Monday that according to a Center for Responsive Politics survey, individual mega donors mostly sympathetic to the former Secretary of State have given $12.3 million compared to conservatives' 10.3 million.  The Hillary Victory Committee has raised nearly $27 million. The top three donors to the pro- Hillary committee all hail from the financial industry and include HBJ investment, Pritzker Group, and Apercen Partners.
Joint fundraising committees are used by politicians on both sides of the political aisle. They allow candidates to team up with political committees to jointly raise money. According to opensecrets.org, JFC's can't take any more money from a donor than they could if the money was given directly, but this vehicle allows a donor to write one very large check.  The committees became even more popular mechanisms for fundraising after the 2014 ruling in the case McCutcheon v. FEC. The case basically struck down a limit on donations that a contributor can give to these joint committees. However, individuals still have to abide by the rules for each contribution cap. So for example, as NPR reports, a donor can give $5,400 per election cycle to a candidate, $6,800 to the DNC, $20,000 per state party committee. So in the case of Hillary Clinton's Hillary Victory Committee, since the committee has signed up 32 states, and Puerto Rico as well as the DNC, that comes to a total of $732,000 per person that can be solicited.
Sanders campaign is raising concerns about how the funds are then being spent. The letter says the funds "are meant to be allocated proportionally among participating committees, are being used to impermissibly subsidize HFA (Clinton's campaign) through an over-reimbursement for campaign staffers and resources." FEC rules state that the different parties must agree upon "an allocation formula."
According to the Hillary Victory Committee website, that formula includes "The first $2,700/$5,000 from an individual/multicandidate committee ("PAC") will be allocated to Hillary for America, designated for the primary election. The next $33,400/$15,000 from an individual/PAC will be allocated to the Democratic National Committee. Additional amounts from an individual/PAC will be split equally among the Democratic state parties from these states up to $10,000/$5,000 per state party: AK, AR, CO, FL, GA, ID, IN, KY, LA, ME, MA, MI, MN, MS, MO, MT, NV, NH, NC, OH, OK, OR, PA, RI, SC, TN, TX, UT, VA, WV, WI, and WY."
The Clinton campaign released this statement to ABC news in response to Sanders attack:
"The Sanders campaign's false attacks have gotten out of hand. As Senator Sanders faces nearly insurmountable odds, he is resorting to baseless accusations of illegal actions and poisoning the well for Democratic candidates up and down the ticket. It is shameful that Senator Sanders has resorted to irresponsible and misleading attacks just to raise money for himself."
Have a tip we should know? [email protected]
Rachel Stockman - President / On Air Host