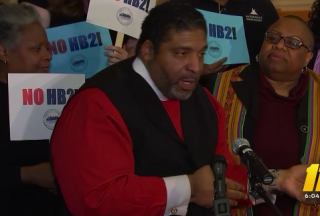 The president of the North Carolina NAACP was reportedly kicked off an American Airlines flight, after a confrontation with a passenger who he said made 'disparaging' comments about his need for two seats on the plane.  According to WRAL, Rev. William Barner said that the passenger had problems with 'those people'  and spoke harshly about Barber having to purchase the additional seat for the flight.  The airline only commented that they did have to remove a disruptive passenger.
The confrontation happened on Friday on a flight to Raleigh-Durham International Airport from Ronald Reagan Washington National Airport.
"The attitude with which he spoke, and my experiences with other who have directed similar harsh, sometimes threatening words, emails, and calls at me, came to my mind. Because he was behind me when he made the comments and because of my disability, the only way I could see him when I tried to speak to him as one human being to another was to stand and turn around," Rev Barner told the local television station.  Barner said he needed two seats due to a bone fusion arthritic disability.
The passenger who didn't want to be identified spoke with ABC 11, and had a little bit of a different version of events.
"He calls the stewardess back over and says 'These guys behind me are talking way too loud, and could you please tell him to keep it down,'" the passenger told the television station. "He could have turned around and said it nicely to me, instead of calling the stewardess up and making a little, small scene about it. That kind of aggravated me a little bit." No one was arrested but the incident certainly caused quite a stir.
Have a tip we should know? [email protected]
Rachel Stockman - President / On Air Host