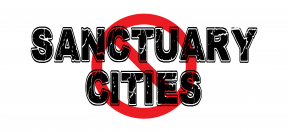 AUSTIN, Texas (AP) — Texas Gov. Greg Abbott has warned local elected officials the state would "hammer" them if they resist federal efforts to deport immigrants in the country illegally. Republican lawmakers seem ready to provide the legal tool to do just that.
A provision in a proposed ban on so-called sanctuary cities that passed the Republican-controlled state Senate on Wednesday would allow for criminal charges, a trial and removal from office of any local official who refuses to comply. The measure now goes to the Texas House, which also has a large Republican majority.
Abbott, a Republican, pledged to sign an anti-sanctuary cities bill into law and threatened to boot from office elected officials who refuse to comply with it. The threat raised legal questions about the governor's power to void local elections, but the new provision would put it in the hands of a jury.
Abbott first issued his warning in a running dispute with Travis County Sheriff Sally Hernandez, an Austin Democrat who has publicly refused to hold jail inmates for possible deportation except in cases of certain violent crimes.
The governor supports the bill that "hammers down and imposes criminal penalties on those who put themselves above the law to the detriment of Texans," Abbott spokesman John Wittman said Wednesday.
The term "sanctuary cities" has no legal definition, but Republicans want local police to help enforce federal immigration law as part of a larger effort to crack down on criminal suspects who are in the United States illegally. The issue has become contentious in states across the country, especially with President Donald Trump promising to withhold federal funds from sanctuary cities, wall off the entire U.S.-Mexico border and impose new immigration policies.
The Senate bill applies to local police forces and law enforcement on college campuses, and seeks to strip authorities of state-controlled grant funding from local jurisdictions that don't hand over immigrants already in custody awaiting possible deportation.
Abbott has already ordered the state to withhold $1.5 million from Travis County, money that also supported projects such as family violence education and a special court for veterans. But the governor told lawmakers he wanted to go further in punishing local officials who refuse to comply with federal immigration requests.
The criminal provision wasn't part of the original proposal, but came in a series of amendments tacked on Tuesday night by bill author Sen. Charles Perry, a Lubbock Republican.
If the sanctuary cities ban is signed into law, it would make refusing a federal immigration detainer a misdemeanor punishable by up to a year in a jail. And it would provide for automatic removal from office of an elected county officer, such as a sheriff, if convicted.
Other provisions include fines on local agencies, starting at $1,000 for a first offense and reaching $25,000 for recurring violation.
Texas can't have "independent kings" picking and choosing which laws to enforce, Perry said Wednesday. "If we elect people that don't have the integrity to do what they say they're going to do, apply the law, the system collapses on itself."
Although some law enforcement groups support the proposal, many individual sheriffs and police chiefs in heavily Democratic areas warn that it will make their jobs harder if immigrant communities — including crime victims and witnesses — become afraid of police.
Senate Democrats, who fiercely oppose the bill but don't have the votes to stop it, questioned how far the punishments would go.
"Take their first born next?" asked Sen. Sylvia Garcia, a Houston Democrat, who said the bill may infringe on the free speech of sheriffs and other officials and would likely draw lawsuits that would tie Texas up in court for years.
This article was written by Jim Vertuno, Associated Press.
[image via Shutterstock]
Have a tip we should know? [email protected]