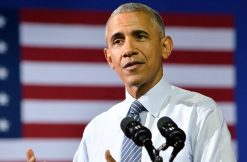 President-elect Donald Trump said back in November 2015 that he'd implement a registry for Muslim immigrants entering the county, and well, his processor in the oval office is making that a little harder than before. The Department of Homeland Security has announced they're taking apart the remnants of a controversial federal program which could've have been used by the next administration.
Trump's proposal isn't unique in American history. The Bush Administration started up the National Security Entry-Exit Registration System (NSEERS) in 2002 to keep tabs on immigrants from 25 nations with high amounts of terrorism. This wasn't a "Muslim registry" per se, but all but one were predominantly Muslim countires. It lasted about three years into Barack Obama's first term, but the regulatory framework still exists—DHS simply took the countries off the list. Now they're going further.
From their statement, to be published Friday in the Federal Register:
The Department of Homeland Security (DHS) is removing outdated regulations relating to an obsolete special registration program for certain nonimmigrants. DHS ceased use of the National Security Entry-Exit Registration System (NSEERS) program in 2011 after finding that the program was redundant, captured data manually that was already captured through automated systems, and no longer provided an increase in security in light of DHS's evolving assessment of the threat posed to the United States by international terrorism.
This won't stop the next administration from taking a similar action, but they'd have to start from the ground up if they do.
The American Civil Liberties Union applauded the move.
"NSEERS was a completely failed counter-terrorism tool and massive profiling program that didn't yield a single terrorism conviction in nearly a decade," Senior legislative counsel Joanne Lin said in a statement. "The ACLU applauds the Obama administration for terminating NSEERS for good. With this action, the U.S. is on the right path to protect Muslim and Arab immigrants from discrimination."
We've reached out to the Trump transition team for comment.
The precise details of Trump's plan remain unclear. A spokesperson falsely claimed he never called for a registry. Meanwhile, the president-elect recently met with NSEERS co-author and Kansas Secretary of State Kris Kobach, who told Reuters in November that he was getting a proposal together to resurrect the program.
[image via Evan El-Amin and Shutterstock]
Have a tip we should know? [email protected]