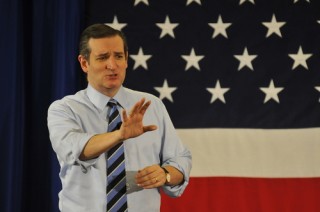 The New York State Supreme Court dismissed a lawsuit claiming that Senator Ted Cruz was not eligible to run for President because he was born in Canada, the New York Daily News reports.  The suit alleged that because Cruz was not born in this country, he is not a natural born citizen, and therefore cannot be President. Judge David Weinstein threw the case out, stating that plaintiffs Barry Korman and William Gallo didn't file their suit in time.  New York law states that they had three days from the time Cruz filed his paperwork to be on the ballot, but they didn't bring their objection until after 19 days.
Roger Bernstein, attorney for Korman and Gallo, had argued that his clients were late because the Board of Elections waited several days to post Cruz's paperwork on their website.
Since the case was tossed on the technicality, Judge Weinstein did not rule on Cruz's eligibility. The issue remains unsettled, even though similar cases have been brought in other states. Alabama, Pennsylvania, and Texas have open cases revolving around the same question, and Illinois and Florida courts have dismissed cases for other technical reasons.
[h/t NY Daily News, image via Andrew Cline/Shutterstock]
Have a tip we should know? [email protected]