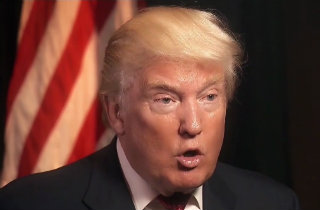 On Sunday morning, Donald Trump made an appearance on "Full Measure," Sheryl Attkisson's political affairs  talk show that airs in syndication on Sinclair Broadcasting Group's stations across the United States. During the interview, Attkisson asked Trump about the various allegations that money from the Donald J. Trump Foundation, his charitable organization, was illegally spent on things like settling lawsuits filed against him personally:
When Attkisson specifically asked Trump if he's "confident that the Trump Foundation has followed all charitable rules and laws," the Republican candidate gave a less confident answer. "Well, I hope so — I mean, my lawyers do it." As Trump expanded on the answer, given the specificity of the allegations, it can be argued that his more direct answer cast more doubt on if the Foundation is acting above board. "We give away money," he continued. "I don't make anything, I take no salaries, I take no — any costs, I have zero costs, and a lot of money goes through the Trump Foundation into charities. Goes to charities, it doesn't go to me, it goes to charities."
Being that allegations aren't that the foundation directly paid Trump the money, that's a curious answer. As a refresher, the examples of alleged wrongdoing, sourced by the Washington Post from cancelled checks and tax records, are:
A $100,000 payment from the foundation to a veterans' charity. Trump had agreed to donate that sum in lieu of paying $120,000 in fines levied by the town of Palm Beach Florida, which stemmed from the presence of an oversized flag pole at his Mar-A-Lago club.
A $158,000 donation by the foundation to the charity of the plaintiff's choice when settling a lawsuit against one of Trump's golf courses in New York.
Spending $5,000 in foundation money to buy ads for Trump's hotel chain in 2013.
$30,000 of the charitable organization's money being dropped on two different portraits of himself, one of which is six feet tall.
Attkisson followed up Trump's answer by making sure to, in her words, "point out that [New York State Attorney General Eric] Schneiderman is a Hillary Clinton supporter and has apparently found nothing worthy of inquiry with the Clinton Foundation." Trump found that "interesting" with regards to "the hundreds of millions of dollars of things."
[Photo: Sinclair Broadcasting Group screen grab]
Have a tip we should know? [email protected]