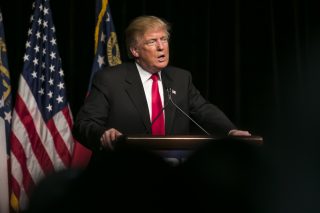 Donald Trump allegedly took money from his non-profit Trump Foundation to settle legal matters involving his businesses, according to a new report by The Washington Post. The report says that more than a quarter of a million dollars was taken from the charity to fund settlements involving Trump's for-profit entities.
One involved Trump's Mar-a-Lago club, which racked up a staggering $120,000 in fines over the size of a flag pole. The town of Palm Beach, Florida agreed to drop the fines if the club gave $100,000 to a veterans' charity. Instead of the club paying it, Trump allegedly had his foundation foot the bill.
In addition, A New York golf course owned by Trump settled a lawsuit by making a donation to plaintiff's charity of choice. But the Trump Foundation apparently ended up paying the $158,000 instead of the golf course.
Now, at first glance this may appear okay, because the money was going from a charitable foundation to different charities. However, says that the money was reportedly supposed to come from Trump's businesses, which he owns, not from the foundation bearing his name, which gets most of its funding from outside donors.
While Trump is president of the Trump Foundation, the money isn't all his.  In fact, after 2006, most of the money reportedly came from other benefactors. According to the Post, tax records show that Trump hasn't given money to the Trump Foundation since 2009.
Laws against self-dealing forbid non-profit leaders from using the organization's funds for personal or business matters. The IRS's website gives examples of self-dealing, including "transfer to, or use by or for the benefit of, a disqualified person of the income or assets of a private foundation." The term "disqualified person" includes all substantial contributors and managers of a foundation, anyone who owns more than 20 percent of a corporation's voting power, a family member of any of those people, as well as a corporation where 35 percent of the voting power is controlled by the foundation's manager or substantial contributor.
If the IRS finds that Trump and the Trump Foundation engaged in self-dealing, they could impose penalties in the form of excise taxes.
Update: Jason Miller, Senior Communications Advisor for the Trump campaign, released this statement on Tuesday night:
In typical Washington Post fashion, they've gotten their facts wrong. It is the Clinton Foundation that is set up to make sure the Clintons personally enrich themselves by selling access and trading political favors. The Trump Foundation has no paid board, no management fees, no rent or overhead, and no family members on its payroll.

There was not, and could not be, any intent or motive for the Trump Foundation to make improper payments. All contributions are reported to the IRS, and all Foundation donations are publicly disclosed. Mr. Trump is generous both with his money and with his time. He has provided millions of dollars to fund his Foundation and a multitude of other charitable causes.

The Post's reporting is peppered with inaccuracies and omissions from a biased reporter who is clearly intent on distracting attention away from the corrupt Clinton Foundation, a vehicle for the Clintons to peddle influence at the expense of the American people. Mr. Trump personally and the Trump Foundation, however, are staying focused on their charitable giving to veterans, the police, children and other deserving recipients.
[Image via Action Sports Photography/Shutterstock]
Have a tip we should know? [email protected]