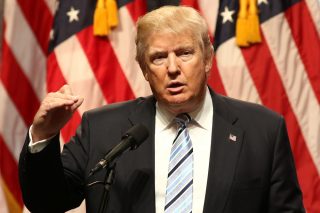 The DNC filed a motion in federal court on Wednesday which says that the RNC, through Donald Trump's own statements, has violated a longstanding consent decree that prohibits Republicans from engaging in "ballot security" measures which could intimidate minorities.
The DNC lawyers are asking for a judge to issue a court order preventing the voter intimidation, and also hold the RNC in contempt of court for failing to abide by the the consent decree. The decree came about in 1981, after Republican officials allegedly engaged in intimidation tactics against minority voters in the name of "ballot security." The decree barred the RNC from engaging in various polling-related activities. Well, the DNC says the Republicans are back at it.
The DNC motion states:
Defendant Republican National Committee ("RNC") has violated the Final Consent Decree.. by supporting and enabling the efforts of the Republican candidate for President, Donald J. Trump, as well as his campaign and advisors, to intimidate and discourage minority voters from voting in the 2016 Presidential Election. Trump has falsely and repeatedly told his supporters that the November 8 election will be "rigged" based upon fabricated claims of voter fraud in "certain areas" or "certain sections" of key states. Unsurprisingly, those "certain areas" are exclusively communities in which large minority voting populations reside. Notwithstanding that no evidence of such fraud actually exists, Trump has encouraged his supporters to do whatever it takes to stop it—"You've got to get everybody to go out and watch . . . and when [I] say 'watch,' you know what I'm talking about, right?"—and has been actively organizing "election observers" to monitor polling stations in "certain areas." Trump has even encouraged his "watchers" to act like vigilante law enforcement officers.
In recent days, the RNC has tried to distance themselves from many of these vigilante tactics, the DNC lawyers say there is now "ample evidence that Trump has enjoyed the direct and tacit support of the RNC in its 'ballot security' endeavors." The DNC's motion is also asking the court to enforce the consent decree with sanctions.  The consent decree was expected to expire in 2017. However, the DNC has asked for an 8 year extension based upon Trump and the RNC's recent actions.
"I think this matter of the extension will get very serious consideration by the courts, including potentially the Supreme Court. It will also cause the RNC to do what it can to try to further distance itself from Trump's election day activities," said University of California-Irvine Law Professor Rick Hasen in his blog.
We've reached out to the Republican National Committee for comment.  According to a WSJ article from last week, attorneys with the RNC did remind members "of the restrictions placed on the RNC by the consent decree."
Ronn Blitzer contributed to this report. 
Have a tip we should know? [email protected]
Rachel Stockman - President / On Air Host