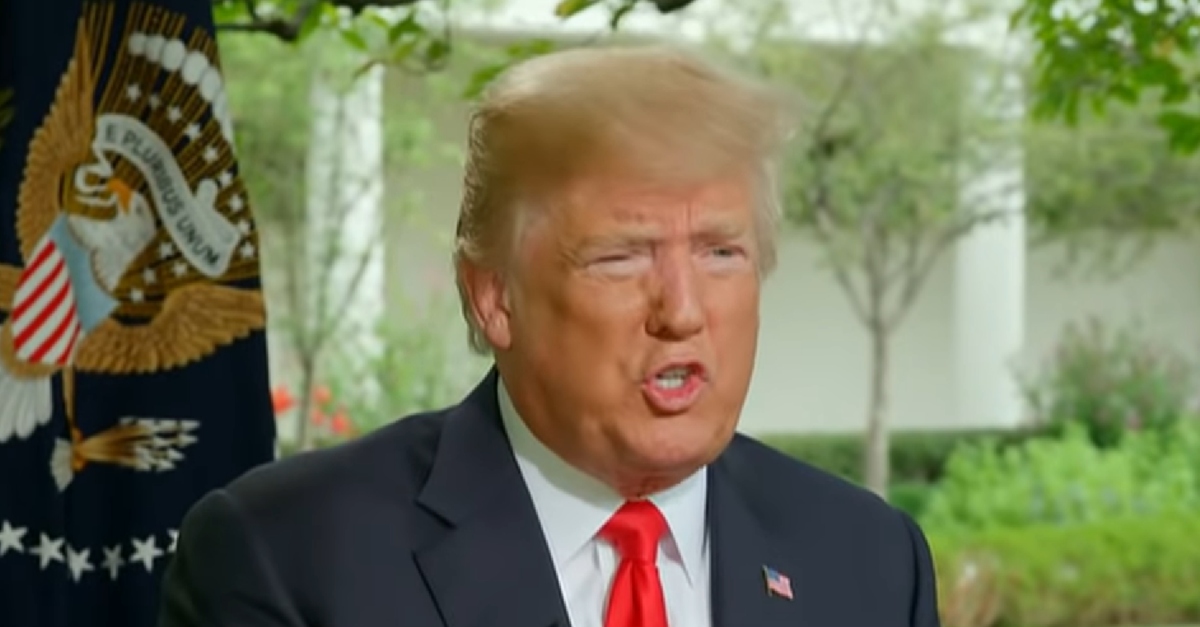 President Donald Trump tweeted out a series of posts on Friday morning blasting Special Counsel Robert Mueller's investigation of Russian election interference and possible links to the Trump campaign. The tweets appeared to be inspired by reports of a newly-released transcript of former FBI Special Agent Peter Strzok's appearance before Congress, but they severely mischaracterized Strzok's testimony and the investigation in general.
"New evidence that the Obama era team of the FBI, DOJ & CIA were working together to Spy on (and take out) President Trump, all the way back in 2015." A transcript of Peter Strzok's testimony is devastating. Hopefully the Mueller Report will be covering this. @OANN @foxandfriends

— Donald J. Trump (@realDonaldTrump) March 15, 2019
First, Trump called the transcript "devastating." Then, around an hour later, he posted several statements alleging that Mueller's investigation is invalid.
So, if there was knowingly & acknowledged to be "zero" crime when the Special Counsel was appointed, and if the appointment was made based on the Fake Dossier (paid for by Crooked Hillary) and now disgraced Andrew McCabe (he & all stated no crime), then the Special Counsel…….

— Donald J. Trump (@realDonaldTrump) March 15, 2019
….should never have been appointed and there should be no Mueller Report. This was an illegal & conflicted investigation in search of a crime. Russian Collusion was nothing more than an excuse by the Democrats for losing an Election that they thought they were going to win…..

— Donald J. Trump (@realDonaldTrump) March 15, 2019
…..THIS SHOULD NEVER HAPPEN TO A PRESIDENT AGAIN!

— Donald J. Trump (@realDonaldTrump) March 15, 2019
There are quite a few problems with these statements, regardless of how one feels about the duration or breadth of Mueller's investigation.
First off, the Strzok transcript did not say that "there was knowingly & acknowledged to be 'zero' crime when the Special Counsel was appointed." What he did say was that, as far as public allegations are concerned, the suspicion wasn't that Trump himself had illegally conspired with Russia, but that members of his campaign may have done so. Stating that Trump himself was not suspected is not the same as declaring that "zero" crime had been committed. Trump also misses the point of an investigation in the first place; they aren't based on proof, but on suspicion. The purpose of an investigation is to obtain proof. If Mueller already had proof of wrongdoing, he'd be able to skip the investigation altogether.
It's also important to remember that Strzok said he wouldn't go into classified information, which allows at least for the possibility that there are other allegations or concerns that we don't know about.
Second, Trump implied that Mueller's appointment was based on the unverified Christopher Steele dossier. This is plainly inaccurate. Mueller was appointed by Deputy Attorney General Rod Rosenstein after Trump had fired FBI Director James Comey, due to concerns of obstruction of justice. The Russia probe had already been going on under Comey's leadership well before Mueller entered the picture.
Even if Trump meant to say that the FBI's investigation was based on the dossier, that still ignores George Papadopoulos, who pleaded guilty to lying about contacts he had with a professor who told him about Russia having dirt on Hillary Clinton. Papadopoulos' communications are said to have been a key factor in the launch of the FBI's Russia probe. Republicans have long criticized the Steele dossier and its alleged role in obtaining FISA warrants to conduct surveillance of Trump campaign adviser Carter Page, but that surveillance began months after the Russia investigation started, and Page was longer part of the campaign by then.
Trump goes on to accuse the investigation of being "illegal & conflicted." The president often uses these words to describe Mueller's investigation, but he hasn't really explained them. There is no reason to believe that it's illegal. Multiple parties have challenged Mueller's authority in various court cases, and they have all lost. There is also no known basis for saying that the investigation has any conflicts. In the past, Trump has complained that there are many Democrats on Mueller's team, but a person's political party doesn't make them incapable of doing their job. Mueller himself is a lifelong Republican.
The tweets seem to center on Trump's concern that "there should be no Mueller Report." The House of Representatives voted 420-0 just yesterday in favor of the public release of the Mueller report. Trump's resistance in this area raises the question: If Trump insists that the investigation has "zero" evidence of wrongdoing, what is he afraid of? I've long been of the opinion that there isn't evidence that Trump himself colluded with Russia, and that there is no publicly known evidence that his campaign illegally conspired with Russia. When Trump tweets messages like this, however, it makes me wonder just how much we don't know.
Ronn Blitzer is the Senior Legal Editor of Law&Crime and a former New York City prosecutor. Follow him on Twitter @RonnBlitzer.
[Image via Fox News screengrab]
This is an opinion piece. The views expressed in this article are those of just the author.