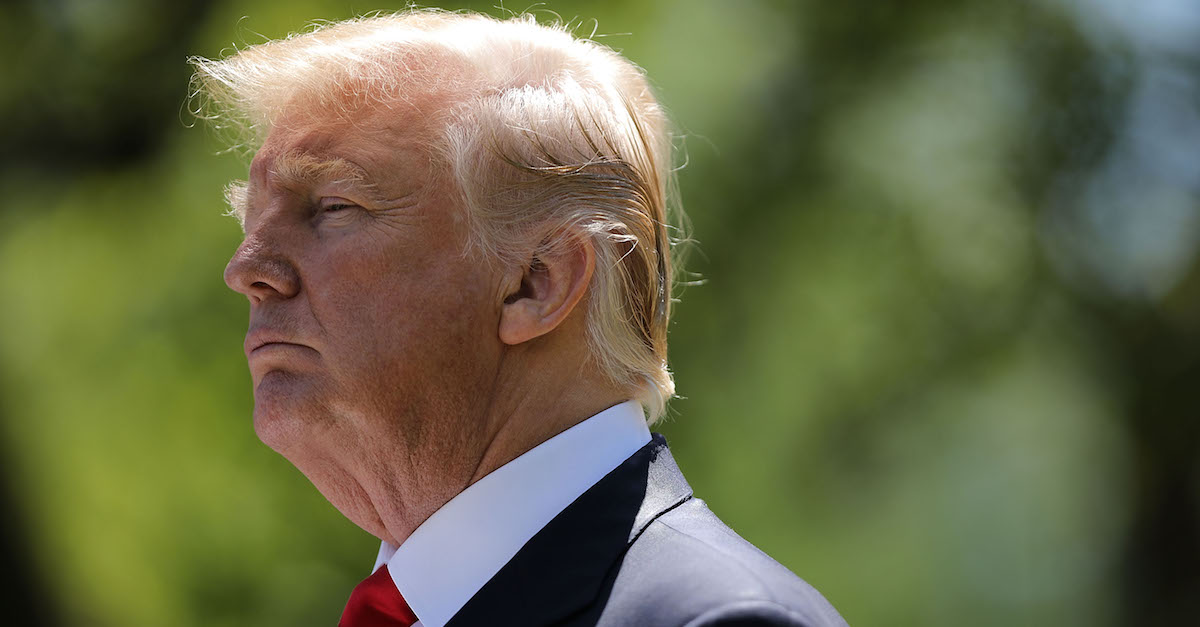 The Twitter feed of the president of the United States was littered with commentary about the Russia investigation bright and early on Monday. Over the last 18 hours or so, President Donald Trump has tweeted or retweeted the following about Robert Mueller, Rod Rosenstein, Andrew McCabe, and more.
Re-tweeted: two tweets from Feb. 14.
Trump has on more than one occasion since Mueller became special counsel spoken publicly and frankly about the ongoing investigations in advance of big developments. While the commentary that the Mueller investigation is an "illegal witch hunt" has been somewhat of a constant, extended targeted rants like the one from the last 24 hours are different.
In a steady stream of tweets, Trump either said or quoted someone saying: Robert Mueller is a covering up a hoax; there's no direct evidence of Trump-Russia conspiracy after two years of investigating; William Barr will restore "credibility" at the Department of Justice; fired FBI deputy director McCabe was "lying" and spinning a "deranged" yarn about his interactions with the president after the firing of James Comey; the Deputy AG Rod Rosenstein, McCabe and former Attorney General Jeff Sessions (whom he called "another beauty") "look[ed] like" they were "planning a very illegal act, and got caught" (wearing a wire, invoking 25th Amendment etc.); he believes that this all adds up to an "illegal coup." Trump also asserted that McCabe was part of the FBI's "insurance policy" in case he won the presidency.
One way you could look at this is that Trump is simply responding to his detractors. Recent history, however, shows there's something more than that going on here. Remember when Trump preempted the news that Paul Manafort's plea deal with Mueller was going to fall apart? — "The inner workings of the Mueller investigation are a total mess. They have found no collusion and have gone absolutely nuts. They are screaming and shouting at people, horribly threatening them to come up with the answers they want." Just over a week later, Trump went on another Twitter spree ranting about Mueller, Comey, Rosenstein, 17 Angry Democrats, and so on.
Later that day, Mueller said that Manafort lied in five areas, one of which was communication with a Russian national alleged to have ties to the Russian intelligence unit accused of hacking the DNC in 2016. Manafort has since been found to have lied in 3 of the 5 alleged areas, including the one about his associate Konstantin Kilimnik.
If you were watching closely last Friday, there's plenty of context available to explain why we are seeing these tweets from the president today. Not only was there a significant Manafort update, there was also further detail provided in the case against Trump's long-time friend and advisor, political operative Roger Stone.
When Trump attacks Comey, Sessions, McCabe, Rosenstein, Mueller etc., what he is doing is attacking the investigations of Stone and Manafort as illegitimate. Each time he does this, however, there are more signs that what is being investigated is legitimate.
We learned on Friday that Manafort, who was unpaid during his stint as Trump's top campaign staffer, might go to prison for 20 years, and unless Trump grants Manafort a pardon Manafort might die in prison. At 69 and soon to be 70, Manafort is already experiencing health problems. His health is said to have declined significantly since being locked away behind bars.
U.S. District Judge Amy Berman Jackson has already agreed that Manafort is lying about something, particularly about Kilimnik communications, and Mueller prosecutors believe Manafort a) may have lied to protect Trump and b) has lied to get a better chance of being pardoned.
Trump has already acknowledged that a pardon is on the table and said that he believes Manafort has been treated unfairly. Manafort's life could be seen as being in the president's hands. Mueller is moving along quickly in the Manafort case and is ready for sentencing as soon as possible. Judge T.S. Ellis III will now have an opportunity to say what he thinks about the plea breach determination (plus prosecutor sentencing recommendations), so Manafort could be in for serious prison time. Regardless of what happens in terms of sentence length, Trump will be put in the position of having to decide what to do about Manafort. Reward loyalty despite political hazard or let him rot?
As the investigation into Manafort's ties to a Russian operative deepen, the investigation into Roger Stone's ties to the 2016 DNC hack is being discussed more openly. In what seemed like an innocuous Friday on filing, Mueller got a little closer to alleging something along the lines of a conspiracy.
For the first time, Mueller said in court documents that the case against Stone was related to United States v. Netyksho, the case Mueller brought against Russian military officers who allegedly posed as the "fictitious persona" Guccifer 2.0., hacked the DNC in 2016, and forwarded materials to WikiLeaks to influence the U.S. election.
Remarkably, Mueller said that the case against Stone arose from evidence prosecutors examined in the DNC hack case.
The government related this case to the earlier indictment returned in United States v. Netyksho pursuant to Local Criminal Rule 57.12(a)(1)(iii) as a prosecution against a different defendant that "arises from a common . . . search warrant" and from "activities which are a part of the same alleged criminal event or transaction." In particular, evidence in this case was found in accounts that were subject to search warrants executed in Netyksho. Moreover, the alleged obstructive conduct in this case was directed at a congressional investigation into conduct that formed the basis for the criminal charges in Netyksho.
Mueller also said that the case is "properly related to Netyksho for the additional reason that the cases 'arise[] from . . . activities which are a part of the same alleged criminal event or transaction,'" raising further questions about what Stone knew and what then-candidate Trump may have known. This would explain why the content of Stone's late-night phone calls with Trump would be of interest to the special counsel.
In Stone, you have a person close to Trump for decades pushed closer to a conspiracy; In Manafort, you have a person who's known Stone for decades under scrutiny for lying about communications with Russians in his final days with Trump's campaign. In Trump, you have a person deeply aware of both situations.
It looks like Trump is bracing for a no good, very bad week, and it's more likely he's right than wrong about that.
[Imager via Chip Somodevilla/Getty Images]
This is an opinion piece. The views expressed in this article are those of just the author.