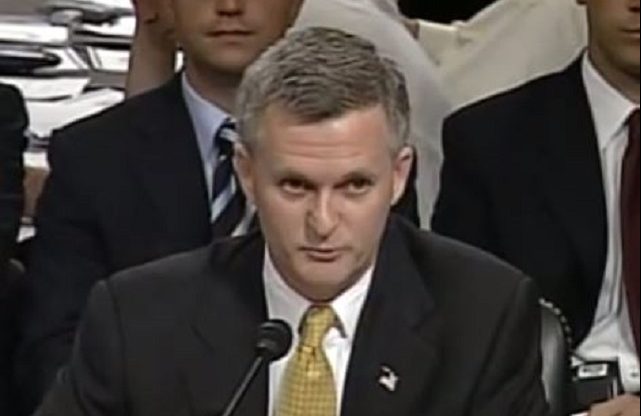 I've got to hand it to the Trump administration.  They're holding fast to the reality TV rule of packing its cast with as many colorful personalities and controversial figures as the budget can accommodate. Just in time for May sweeps, the administration has tapped Steven Bradbury for the role of General Counsel for the Department of Transportation. This time, Trump is changing it up a little, and not picking someone who has already shown a penchant for destroying the entire concept of transportation. So there's that. But this guy is guaranteed to inject some drama into the second half of cabinet season. Bradbury can be filed either under "already hated by Democrats," or the potentially the simpler, "loose cannon." Steven Bradbury, you see, is already something of a star. No, not that Steven Bradbury. This guy (unfortunately) isn't the frosted-tipped Aussie speed-skater. This is Steven G. Bradbury, of waterboarding and torture fame.
This Bradbury was a former George W. Bush lawyer who held a number of high-ranking legal jobs in the early 2000s. But that's not where he gets his star power. Bradbury authored a bunch of classified opinions that legally authorized "enhanced interrogation techniques" following the September 11 terror attacks. In the opinions, Bradbury said that waterboarding, food and sleep deprivation, and physical striking weren't really torture, and the U.S. was good to go for using them in the "war on terror." Forcing detainees to remain in a standing position for four days was also cool with Bradbury. When Bradbury was called out before a House Judiciary subcommittee, he explained that these techniques weren't "torture" because the pain they inflicted wasn't severe or long-lasting enough. On cue, human rights groups, the ACLU, Democrats, and anyone uneasy with the U.S. deeming Guantanamo a legally-sanctioned Pit of Despair freaked the hell out.
Bush '43 nominated Bradbury as assistant attorney general back in 2008, but Senate Dems weren't keen on having an eager waterboarder in such a prominent position. Politico reported that Dems had been so fiercely opposed to Bradbury that in December 2008, Senate majority leader Harry Reid offered to confirm 84 pending nominees in exchange for a withdrawal of Bradbury's nomination. Reid's offer was one the Bush White House could apparently refuse, and Bradbury served a short stint as Assistant Attorney General. When President Obama entered the scene, Bradbury was shown the door. Later, in a 2009 report, the Department of Justice's Office of Professional Responsibility said it had "serious concerns about some of his analysis," but stopped short of accusing Bradbury of official professional misconduct.
For the last decade, Bradbury has distanced himself from the infamous Bradbury Memo, and returned to private practice as a partner with Dechert LLP in Washington, D.C. Bradbury gets out of the office now and again to do things like advise Mitt Romney and defend the NSA's collection of metadata.  An appointment to the Trump cabinet would be a fitting coda to Bradbury's controversial career.
What will Bradbury mean for the Department of Transportation? Well, anything is possible. He'll have his hands on international transportation agreements, as well as issues regarding the fitness of U.S. airlines, issue alcohol and drug regulations, and possibly transportation legislation. There's not a lot of call for waterboarding or sleep-deprivation, but my money's on Bradbury continuing to hone his we'll-do-what-we-like-in-the-name-of-safety brand. On the plus side, if you think your commute is torture, you'll know who to blame.
[Image via AP screengrab]
This is an opinion piece. The views expressed in this article are those of just the author.
Elura Nanos - Columnist & Trial Analyst, Law & Crime; CEO Lawyer Up