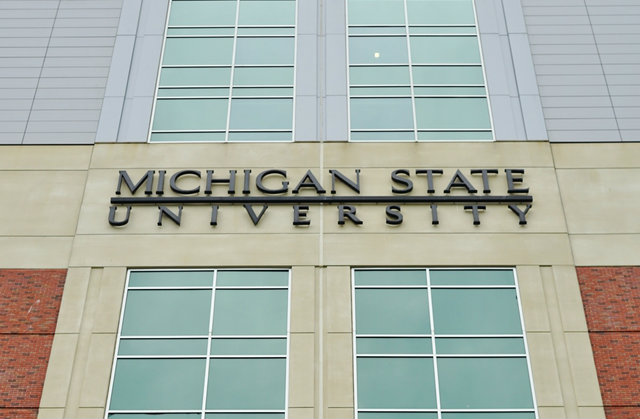 On Tuesday, three players on the Michigan State University football team were suspended and kicked off the squad after a judge signed arrest warrants against them.
Josh King, 19, a defensive end, faces one count of first-degree criminal sexual conduct, one count of third-degree criminal sexual conduct, and one count of capturing an image of an unclothed person.
Donnie Corley, 19, and Demetric Vance, 20, both have to contend with third-degree criminal sexual conduct.
A detective with the MSU Police Department testified on Tuesday that these three sexually assaulted a woman during an on-campus party on Jan. 16. King allegedly chatted up the alleged victim, made her go into a bathroom, and forced her to do several sex acts. He allegedly allowed Corley and Vance into the bathroom at different moments, and the woman was allegedly forced to perform oral sex on them.
Cops claim they discovered footage on King's phone which showed him sexually assaulting the alleged victim.
An Ingham County prosecutor said on Monday that they would not pursue a fourth warrant against a former MSU football staff member, who was not named.
An university-commissioned investigation also led to the suspension of staff member Curtis Blackwell. The school let his contract expire in May. No renewal. He was accused of breaking MSU rules after speaking to the players but not telling supervisors what he discovered.
Football team head coach Mark Dantonio dismissed King, Corley, and Vance from the team after Tuesday's court hearing. The three defendants had already been suspended indefinitely and were pushed out of university housing in February after the school learned about the allegation.
The Lansing State Journal attempted to get comment from Kings' and Vance's attorneys. Corley's lawyer responded, however.
"It's never a good day when a criminal charge is filed against you, but at least Mr. Corley knows what he is facing and can get on with the process of fighting it," Corley's lawyer John Shea told the outlet in a statement. "As appropriately noted by Prosecutor Siemon in her statement, at this point the charge is only an accusation and Mr. Corley is presumed to be innocent. He maintains that, in fact, he IS innocent, and we intend to demonstrate that in the coming proceedings."
If convicted, King could spend the rest of his life behind bars. Corley and Vance face up to 15 years in prison.
[Image via EQRoy and Shutterstock]
Have a tip we should know? [email protected]