Listen to the full episode on Apple, Spotify or wherever else you get your podcasts, and subscribe.
One of Marilyn Manson's accusers has recanted her sexual abuse allegations against him, and her sudden reversal has raised a number of questions — including about the shock rocker's attorney.
Named in court papers by his birth name Brian Warner, Manson has been in the middle of an aggressive counteroffensive against women accusing him of sexual misconduct. The saga started when his ex-girlfriend, actress Evan Rachel Wood, accused him of rape, physical abuse and cult-like behavior. Now, another ex-girlfriend, Ashley Smithline, suddenly reversed her claims and asserted Wood "manipulated" her, but her sworn declaration won't be let into Warner's lawsuit against Wood.
"A professional decider"
On this week's episode of Law&Crime's podcast "Objections: with Adam Klasfeld," Los Angeles-based and Hollywood-focused lawyer Jonathan Handel hashes out the latest developments.
"Not all accusers tell the truth, but not all accused tell the truth, either," Handel noted.
Wood claims Warner groomed her when she was a teenager, sexually assaulted her during the taping of the music video "Heart Shaped Glasses," branded her with an 'M' carved out near her genitals — and generally turned a star-struck and creative girl into a drugged out and broken woman. The "Thirteen" actress organized other women who claim to be Warner's survivors, documented their experiences in the HBO documentary "Phoenix Rising," and successfully advocated to prolong the statute of limitations in sexual abuse cases in California.
Over the last month, Warner struck back in a lawsuit accusing Wood and her girlfriend Illma Gore of conspiring to gin up false claims. Warner claims that Wood and her girlfriend took extreme measures to smear him, like forging an FBI letter and "swatting" him — the dangerous practice of falsely reporting a crime to send a SWAT team to barge into his house.
Wood has tried to defeat Warner's countersuit under anti-SLAPP law, a statute meant to deter litigation designed to chill free speech. Warner wanted to use Smithline's sworn statement as evidence that his lawsuit has merit, but a California judge wouldn't let it into court.
"A judge is a professional decider, unlike, you know, the jury of 12 peers who are wrangled generally rather unwillingly to sit and decide a case," Handel noted. "And the judge can just look at this and be like, 'You know, this is just B.S."
"Say that it was all, like, a ruse"
Warner's attorney Howard King noted that the judge's ruling was procedural, based more on timing than merit.
But Wood claims that there are reasons to disbelieve Smithline's sudden 180.
In her own sworn declaration, Wood shared Instagram chat messages indicating that Smithline reached out to her first, not the other way around.
"I have no reason to make this up!" Smithline wrote on May 5, 2021.
Wood also submitted an eyebrow-raising declaration from Smithline's friend Karl Neilson, who submitted what he claimed to have been the transcript of a voicemail he received.
In the message, Smithline claimed that Warner's lawyer reached out to her and said: "I'd like to speak with you just one-on-one, directly, no… no lawyers or something." Smithline claimed that King wanted to "settle with me to turn on the other girls, and say that it was all, like, a ruse."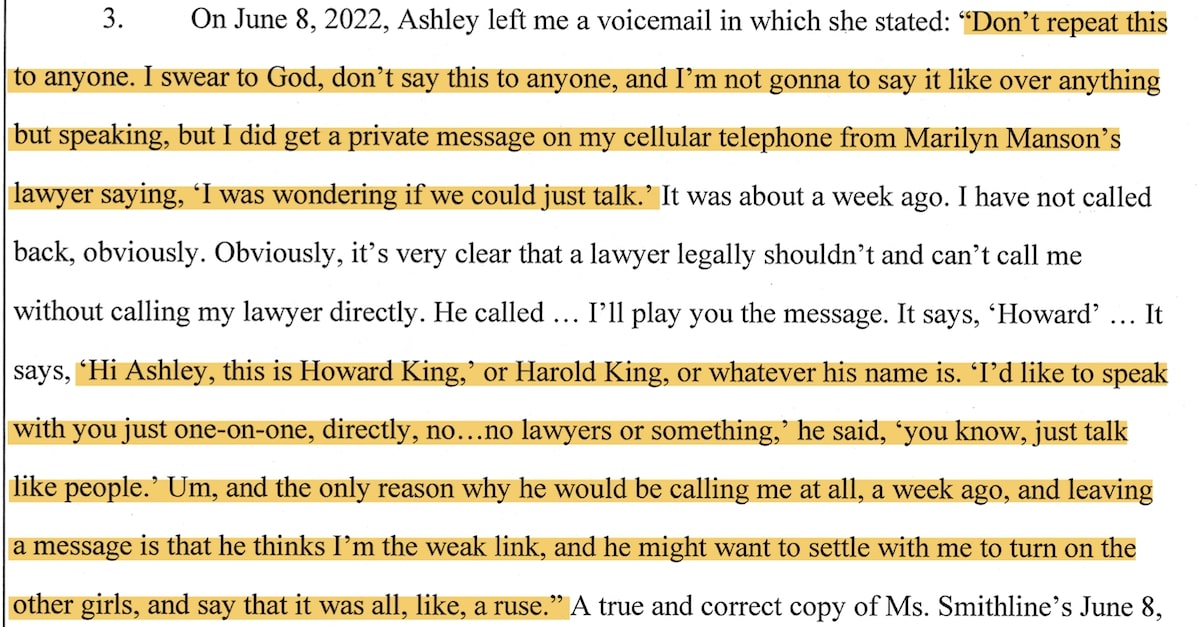 If true, Handel said, such an outreach would have been unethical.
"If that is what it purports to be, it is extraordinarily unethical and extraordinarily reckless on the part of the lawyer," Handel said.
California ethical rules prohibit a lawyer from contacting a represented person, except through counsel.
Reached for comment, King agreed that it would have been unethical to contact an adversary represented by counsel to discuss the case, but he said that's not what happened.
"I do not believe that voicemail is authentic," King told Law&Crime. "I had no discussions with Ashley while she was represented by an attorney, other than when she called me and told me she had 'sacked' her attorney and wanted to drop her case. I told her I could not discuss the matter with her while she had a lawyer of record, even if she thought she terminated him. I immediately contacted her lawyer and told him about the call; he instructed me not to speak with her, an instruction I followed until the Court ordered his withdrawal from the case."
Smithline's attorney did not respond to an email requesting comment.
Listen to the podcast below:
Have a tip we should know? [email protected]
Adam Klasfeld - Managing Editor