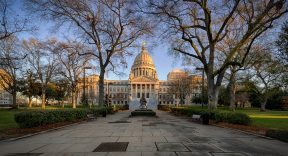 JACKSON, Miss. (AP) — Police say three people have been shot to death and one has been wounded during an attempted robbery in Mississippi's capital city.
Jackson police said Friday that a shootout occurred late Thursday at Westwood Apartments. Some people were playing dominos in an apartment when others entered and tried to rob them.
Two people died at the scene, and another died later at a hospital.
Hinds County Coroner Sharon Grisham Stewart says all three died of multiple gunshot wounds.
Police identified two of those killed as Dominique Garrett and Jessie Kelly, both 23. The third person killed was not immediately identified.
Police say 23-year-old Marquis Garrett was wounded. He is Dominique Garrett's brother.
[image via Nagel Photography, Shutterstock]
Have a tip we should know? [email protected]