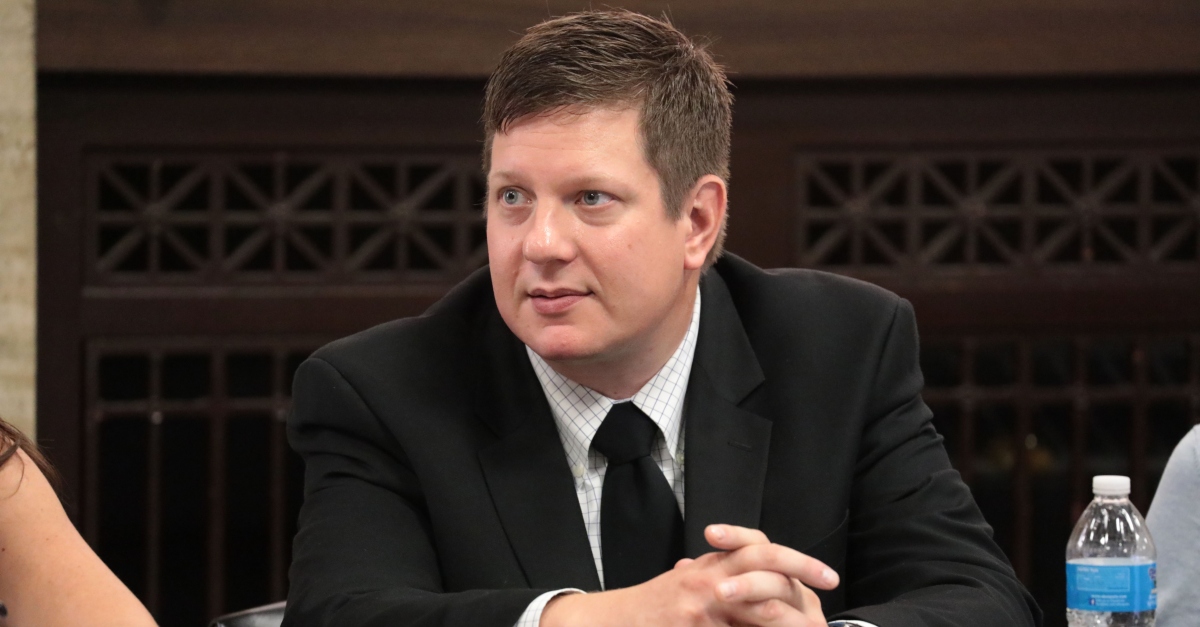 Opening statements began Monday morning in a Cook County, Illinois courtroom in the murder trial of former Chicago cop Jason Van Dyke. Prosecutors say he stepped way over the line by shooting 17-year-old Laquan McDonald 16 times the night of October 20, 2014. The defense argues, however, that this shooting was justified–Van Dyke credibly believed he and other people were in danger because of McDonald's actions that night.
Here are five key takeaways from this morning's opening statements.
1. PCP and a knife.
First, let's talk about what Special Prosecutor Joseph McMahon and defense lawyer Dan Herbert agreed on: that McDonald had a knife and had taken PCP. The case rests, however, on whether Van Dyke was justified in shooting during the moment caught on police dash cam footage. Be warned: it's graphic.
"It was not necessary to kill him," McMahon said.
2. Defense: Victim was on a "wild rampage."
As Herbert told the story, McDonald had been in several confrontations before the shooting. He was found in a secured lot inside a truck by a driver, attempted to stab the driver, and later attempted to carjack a woman. McDonald punctured the tires of a squad car when confronted by cops, and also struck a windshield, Herbert said. Then later, he flicked out his knife while running to get into a Dunkin' Donuts.
"He is planning an attack at this point," Herbert claimed.
Herbert described McDonald's actions as a "wild rampage."
3. Prosecution: There was another way to confront McDonald.
In his opening statement, McMahon acknowledged McDonald striking the windshield and popping the squad car tire, but said officers that night had other plans to confront the victim. There were dispatch calls for a unit with a taser, he said.
"Sure enough, another unit in the area responds that they have a taser," he said. "Every officer in this area has access to that radio frequency. Every officer would have been able to hear this."
A taser unit was on its way, and there wasn't a single pedestrian in sight, McMahon said. Van Dyke tried to pulled his vehicle alongside McDonald, but his partner said they were too close. Later, the defendant got of the vehicle with his gun drawn. Six seconds later, he opened fire 16 times. The prosecution said Van Dyke emptied his magazine while McDonald was surrounded by squad cars and while a taser unit was near. There was also a chain link fence six to seven feet tall protecting a vacant lot and there were no pedestrians nearby.
4. 16 bullets.
The jury's only black member voiced concern about the number of times Van Dyke shot McDonald. How will both sides try to handle this key element?
McMahon construed the killing as way over the top. McDonald fell 1.6 seconds after the defendant began to shoot, but Van Dyke continued pulling the trigger for the next 12.5 seconds. To emphasize this, the prosecutor counted up to 16, one for each bullet.
"16 gun shots to the defenseless body of Laquan McDonald," he said.
Herbert downplayed McMahon's "dramatic count" of the 16 shots. He said law enforcement fires five to six bullets in one second, and by the time McDonald hit the ground, Van Dyke had probably opened fire 10 times. Van Dyke was afraid based on McDonald's alleged behavior, and he was focused on a threat, Herbert said. "The threat was Laquan McDonald."
He argued that McDonald showed signs of abnormal behavior (including walking down the street without saying a word), and he showed signs of attacking.
5. How will race factor in?
McDonald was black, and Van Dyke is white. Protests occurred after the dash cam footage was released in 2015, amid a fraught national debate over whether people of color, especially black men, are less likely to get due process, and more likely to be brutalized by police.
Before openings, both sides argued over whether the case should be moved out of county because of all the press coverage. Herbert argued that having this in Cook County exposed jurors to protests and threats, and he accused the prosecution of wanting "a notch in their belt."
McMahon said the public had a right to a public trial, and that Chicago residents had a significant interest in the case. He said that none of the 54 potential jurors voiced fear about rendering a verdict.
During openings, Herbert dismissed the idea that this was about race. He said that the government wanted jurors to see this as a race issue because "that's more inflammatory."
"Race had nothing to do with this," he said. "There will be no evidence to suggest that race was a factor."
McMahon highlighted what he described as McDonald's "troubled childhood," and medical condition. He said Van Dyke knew none of this.
"What he did see was a black boy walking down the street toward a chain link fence and having the audacity to ignore the police," he said.
Talia Tirella contributed to this report.
[Image via ANTONIO PEREZ/AFP/Getty Images]
Have a tip we should know? [email protected]