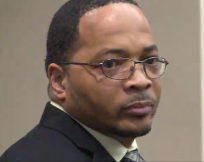 A Tallahassee, Florida jury came to an impasse and a judge declared a mistrial in the case of Henry Segura who was facing first-degree murder charges.
Segura was on trial for the deaths of his girlfriend, Brandi Peters, her twin girls, Tamiyah and Taniyah Peters, both aged six, and her son with the defendant, JaVante Segura, who was three. The four were killed November 20, 2010. Police arrested Segura ten months later in Minnesota.
Prosecutors claimed Henry Segura killed his girlfriend by shooting her and beating her with a heavy object while she attempted to fight off the attack. They claimed he shot Tamiyah Peters in the back of the head and drowned the other two children in a bath tub. They claim the motive was $20,100 in child support payments Segura owed Peters for the care of JaVante Segura.
Though Henry Segura had signed JaVante's birth certificate, he claimed Peters later told him the boy wasn't his. He was in the process of asking the state to be removed from officials records as JaVante's father, but prosecutors claim he lacked the several hundred dollars necessary for a paternity test.
Segura, who took the stand in his own defense, told the jury he lied to police early on in the case to hide his affair with Peters from his wife. He also claimed he didn't want the police looking at one of his cars, a Monte Carlo, because it was stolen. He had changed the VIN on the car so he wouldn't get caught.
Segura also claimed he used several phones to prevent his multiple "females" from finding out about one another.
He further had to qualify recollections of his infidelities to count only those women he had been with in Tallahassee.
Segura struggled to remember the size of his own pants.
Segura also testified that he had been involved in a shootout in Mississippi a few months before the four murders in Tallahassee, Florida.
One of Segura's other dates testified that he was enraged a few days before the murders and asked her for a gun. After the murders, she testified, he continued to behave strangely.
Kelsey Kinard, a cellmate of Segura's, claimed that Segura confessed to the murders in an Oklahoma jail cell in 2011. Kinard even claimed Segura wrote a rap song about the crime.
Defense attorneys argued that a patchwork of other evidence raised enough reasonable doubt not to convict their client.
Investigators did not find any of Segura's DNA on the scene, even though Segura testified to having been there the day before the have sex with victim Brandi Peters.
Instead, the DNA of an unknown woman was under victim Brandi Peters' finger nails, and the DNA of an unknown man was also present on the victim's door handle, bolt lock, phone cradle, purse, and a shovel at the scene.
Additionally, bloody clothes, gloves, and bleach turned up later at a nearby park. Investigators testified that they were unable to tie the items to the murders.
Police recovered a mixed DNA sample from the victim's bedroom phone. The defense claims that one of the profiles recovered from the sample is a partial sample of the DNA of Angel Avila-Quinones, a member of a Colombian drug cartel who had just been released from federal prison in Florida before the murder. Avila-Quinones subsequently left the country and is currently in Italy. The prosecution emphasized that the partial sample is inconclusive and that it even could be a fragment of the defendant's DNA. Investigators from Florida traveled to Italy to interview Avila-Quinones but were unable to bring him to the United States due to Italy's tough extradition laws and due to a lack of evidence against him, they testified. Much of the evidence surrounding Avila-Quinones never made it to the jury because of the general inadmissibility of DNA evidence from federal databases. Prosecutors also believed Avila-Quinones left the country in 2009, which was before the murders.
Another prisoner, gang member James Carlos Santos, claimed that he ordered that Peters and her children be killed because she was skimming cash while working for a drug-running cartel. Santos claimed to others behind bars that he ordered the hit while he was in prison. However, because he pleaded the Fifth with relation to this case, the jury never heard most of the claims. Prosecutors elicited testimony that Santos had a history of confessing his involvement in other high-profile crimes, some of which he could have have committed because he was in jail at the time the crimes were committed. Still, neighbors also testified that Santos had a relationship with the victim, had written a threatening letter to her shortly before she died, and that she was scared of him.
A police informant named Gregory Washington claimed yet another person, DeMario Paramore, confessed to him that he committed the murders along with an individual named Heywood Griffin. Griffin claimed he had nothing to do with the murders. Police did not further investigate Paramore. Prosecutors said the wording of the conversation between Washington and Paramore didn't amount to a confession.
Prosecutors accused many of the so-called jailhouse snitches of trying to provide tips and leads in this case in order to reduce their own prison sentences. At least one testified he himself petitioned to have his sentence reduced for providing information in this case.
Evidence rules preventing hearsay and self-incrimination prevented defense attorneys from proposing many elements of these alternate theories to the jury.
Have a tip we should know? [email protected]
Aaron Keller - Deputy Editor-in-Chief