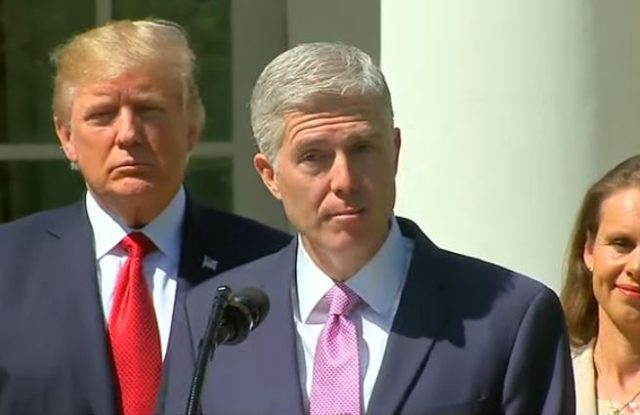 Appearance of impropriety? Perish the thought.
President Donald Trump's first appointed Supreme Court Justice, Neil Gorsuch, plans to address a group of conservatives late next month at the president's own personally-branded hotel in Washington, D.C.
The Fund for American Studies (TFAS) is a non-profit dedicated to advancing conservative interests through various academic and fellowship programs and is directly linked to the right-wing State Policy Network group of think tanks and tax-exempt entities, according to The Center for Media and Democracy.
TFAS plan to celebrate their 50th anniversary in Trumpian style with the kind of pomp and somewhat curious circumstance that only a Trump-nominated Supreme Court justice can provide by throwing their five-decades-long celebratory shindig at the Trump International Hotel, a 3.5 star Yelp-rated lodging and event space with four dollar signs–indicating presidential levels of priciness.
Sitting atop the former site of the Old Post Office Pavilion, the Trump International Hotel Long was opened to guests in September 2016.
So what if Vanity Fair thinks it's a dump? Gorsuch's scheduled appearance all but demands it become a fixture for D.C. swamp creatures and elites for some time to come.
The gala conflict of interest is slated to begin on September 28. An official invitation appears below.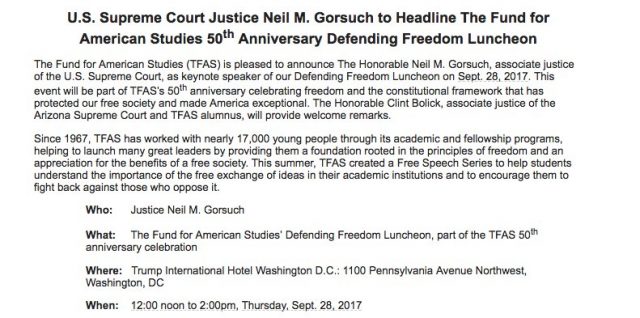 [images via screengrab]
Follow Colin Kalmbacher on Twitter: @colinkalmbacher
Have a tip we should know? [email protected]