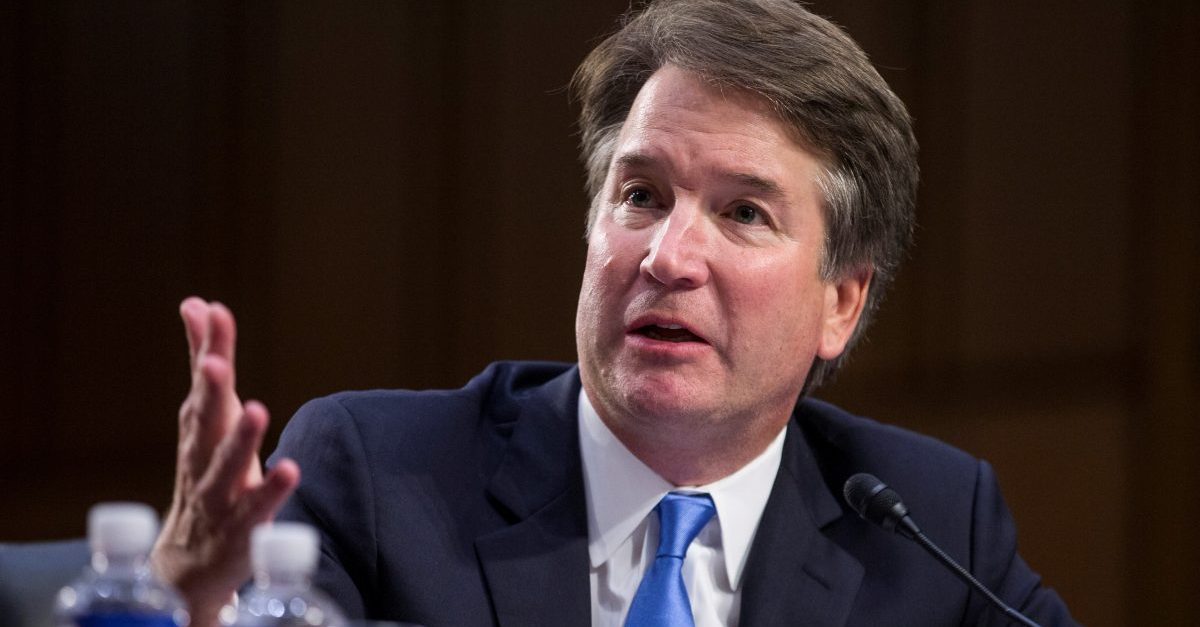 Ed Whelan, president of conservative think tank the Ethics and Public Policy Center and friend of Brett Kavanaugh, made a bold prediction earlier this week when he said he expected "compelling evidence" to come out that would vindicate the Supreme Court nominee, who has been accused of trying to sexually assault Christine Blasey Ford when they were in high school. He went on to suggest that this is a case of mistaken identity. Thursday night, Whelan posted (and later deleted) the yearbook photo of a classmate of Kavanaugh's, suggesting he was the real culprit. The move has drawn significant backlash as being based solely on speculation, and therefore crossing the line into defamation. And for good reason.
In order to prove a case for defamation (libel for printed statements, slander for spoken ones), a person has to prove that a statement was made to a third party, was false, was damaging. In this case, Whelan published his accusation on Twitter for the world to see, and it accused the person of a crime, which in many jurisdictions constitutes defamation per se, meaning it's automatically considered damaging without the person having to prove harm. As far as intent, in cases like this, it would also have to be shown that a false statement was made negligently. For statements about public figures, that standard rises to knowledge that the statement was false, or reckless disregard for whether it's true. Since the subject of Whelan's post was not a public figure, the negligence standard would likely apply.
Whelan apparently reached his conclusion by going over reports of the allegations, and trying to narrow down the location of the party where Kavanaugh was said to have committed the act. He then noticed that one of Kavanaugh's classmates lived in one of those houses at the time, and that this classmate was also a white male with a similar hair style. Based on these ridiculously shaky observations, apparently, Whelan determined that Ford may have confused the two classmates, and that this other man could have been the assailant.
Whelan ended up apologizing for it, seeming to acknowledge how problematic his tweets were.
I made an appalling and inexcusable mistake of judgment in posting the tweet thread in a way that identified Kavanaugh's Georgetown Prep classmate. I take full responsibility for that mistake, and I deeply apologize for it. I realize that does not undo the mistake.

— Ed Whelan (@EdWhelanEPPC) September 21, 2018
That didn't lessen the backlash, especially given the publicity that the theory received through reporting by the Washington Post and Fox and Friends.
Having handled high profile defamation claims for plaintiffs, this "republication" act by @FoxNews not only creates greater liability for @EdWhelanEPPC but also opens itself for independent liability. https://t.co/X9ClfFXalx

— Mark S. Zaid (@MarkSZaidEsq) September 21, 2018
I hope the classmate sues the hell out of him. This was completely irresponsible and reckless and is the definition of defamation. https://t.co/qQKIX2KCby

— Rachel Stockman (@RStockmanLAW) September 21, 2018
The above-mentioned media coverage itself, however, would not rise to the level of defamation, as it did not make any accusations about the classmate, and merely reported on what happened. Both the Post and Fox and Friends addressed how Ford completely debunked Whelan's theory by saying she knew both men and that there was "zero chance" that she could have confused them. Both outlets also reported on Whelan's apology and admission that his tweet was "an appalling and inexcusable mistake of judgment."
Note: This article has been updated with additional analysis.
[Image via Zach Gibson/Getty Images]
Have a tip we should know? [email protected]