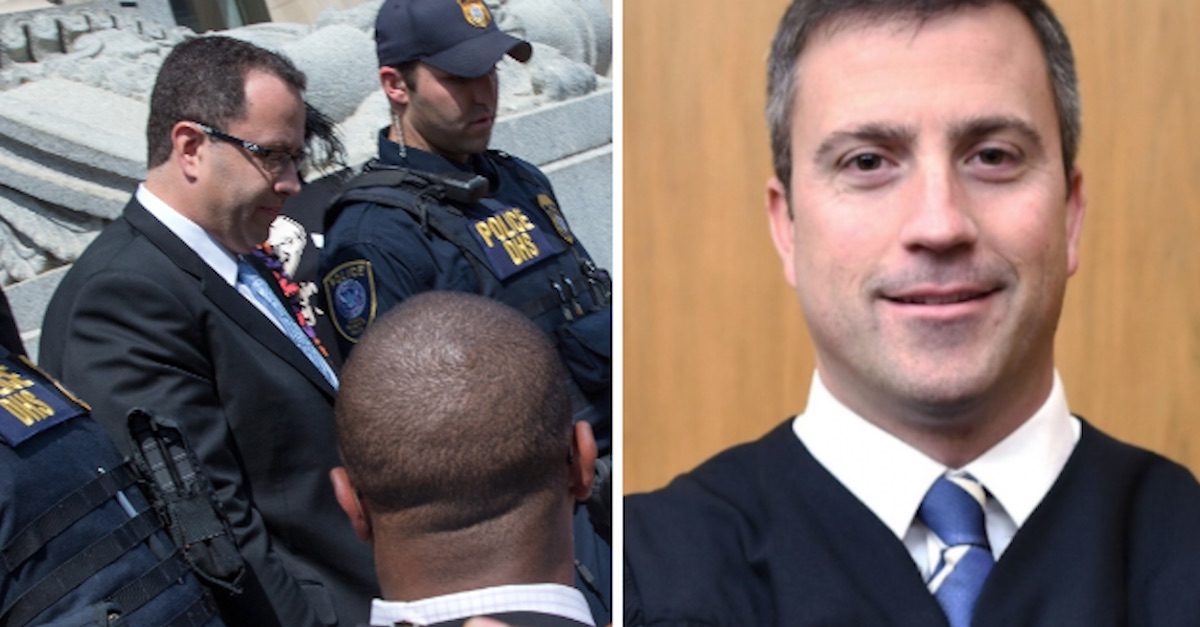 Jared Fogle, the former Subway spokesman who pleaded guilty in 2015 to child pornography charges and remains incarcerated, saw the lawsuit he filed accusing the Obama Administration of "various federal crimes" tossed by a judge appointed by President Donald Trump.
Judge Trevor McFadden dismissed Fogle's $57 million suit with prejudice on Thursday, meaning this case is dead and cannot be revived.
Fogle accused prosecutors, judges, attorneys and the Obama Administration of committing "various federal crimes" which led to his imprisonment. Judge McFadden was having none of it.
"Plaintiff Jared S. Fogle, pro se, alleges that the judicial officers, prosecutors, and defense attorneys involved in his criminal proceedings as well as the 'Attorney General of the United States, Obama Administration' committed various federal crimes, including obstruction of justice under 18 U.S.C. § 1503 and violation of the Racketeer Influenced and Corrupt Organizations Act ("RICO"),'" he began. "Because this Court lacks subject matter jurisdiction with respect to the judges, prosecutor, and Attorney General; and because Mr. Fogle has failed to state a claim upon which relief can be granted with respect to his former defense attorneys, this case will be dismissed."
He said the RICO and obstruction of justice claims had "no factual basis."
"For the foregoing reasons, the Complaint will be dismissed with prejudice," McFadden concluded.
As Law&Crime previously reported, Fogle said he was wrongfully allowed to plead guilty to conspiracy to receive child pornography, claiming that conspiracy doesn't apply to such an offense.
Fogle had applied for a writ of habeas corpus (claim of unlawful detention) which named the warden of his prison, presiding Judge Tanya Walton Pratt, and — oddly enough — President Trump, who had nothing to do with the case.
Judge Pratt sentenced Fogle to 15 years and 8 months in prison, which is even higher than the 12 years and 7 months that prosecutors recommended. In February, Fogle demanded that Judge Pratt recuse herself because she had teenage daughters, claiming that she was biased against him due to the nature of the case.
Last fall, Fogle even tried a "sovereign citizen" defense, claiming that the United States government doesn't have jurisdiction over him. Judge Pratt cited case law saying that this defense as "no conceivable validity in American law."
Alberto Luperon contributed to this report. 
[Images via Joey Foley/Getty Images; United States District Court for the District of Columbia.]
Have a tip we should know? [email protected]