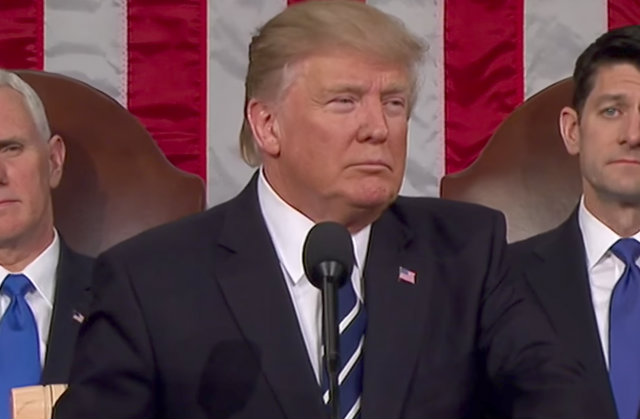 One of President Donald Trump's tweetstorms dominated the American news cycle once again, as his morning Twitter announcements to ban transgender people from serving in the U.S. military "in any capacity" sparked widespread outrage and criticism, and many civil rights groups are already preparing lawsuits against the president. President Trump's actions thus beg the simple question: why?
A pending spending bill in the House of Representatives, according to a POLITICO report, explains Trump's sudden policy announcement.  The bill, backed by GOP representatives, was packed with measures that if passed would fulfill a number of Trump's campaign promises, such as designating funds to build a border wall between the U.S. and Mexico. Yes, his early morning tweet storm might be all about the border wall. The bill's success would be significant victory for the president.
Intra-party conflict over transgender troop issues, however, threatened to derail the bill entirely and leave the legislation without the necessary GOP votes to pass. The split between Republicans was over whether or not the Pentagon would ban funding for sex-reassignment operations for military personnel. More conservative representatives argued that the measure would be a waste of taxpayer money while more moderate Republicans considered a funding ban inherently discriminatory.
The threat of the bill's failure prompted Trump to take swift action and ban transgender individuals from serving, reaching much further than the bill ever considered going. According to a number of White House and congressional house sources, the tweets represented Trump's "last-ditch attempt to save [the] House proposal", POLITICO reported. House representatives reportedly asked for Defense Secretary James Mattis to lend them a hand in enforcing a ban, but after he declined to act on the matter immediately, GOP members then appealed to the President, who happily obliged.
"This is like someone told the White House to light a candle on the table and the WH set the whole table on fire," one White House Republican aide said.
[Image via Screengrab]
Have a tip we should know? [email protected]