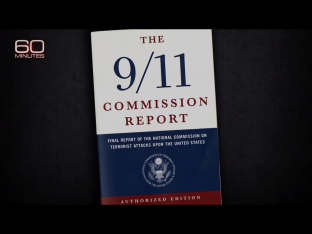 Former United States Senator Bob Graham said late last night that the White House will decide whether to release 28 classified documents redacted from the 9/11 Report within the next two months.  The "28 pages" as they've become known, allegedly contain information that the 19 hijackers involved in the 9/11 plot may have received more support from some Saudi government officials than has previously been acknowledged.
A 60 Minutes report on the "28 pages" that aired over the weekend, coupled with President Obama's scheduled trip to Saudi Arabia in coming weeks, has brought a renewed attention to the documents.  Sen. Graham, who co-chaired the joint congressional investigation into the 9/11 attacks, has long advocated for the release of the documents and does not believe they pose a risk to national security — the official reason cited by both the Bush and Obama administrations in response to past calls to declassify the documents.
Critics claim the real reason the documents have not been released is because they may contain information that will embarrass Saudi Arabia, our strong ally in the Middle East.
Sen. Graham told the Tampa Bay Times that he received a call from the White House on Tuesday informing him that the declassification review would be completed shortly and President Obama would make the final decision about releasing the documents within "one or two months."
[h/t Fox News; image via screengrab]
Have a tip we should know? [email protected]