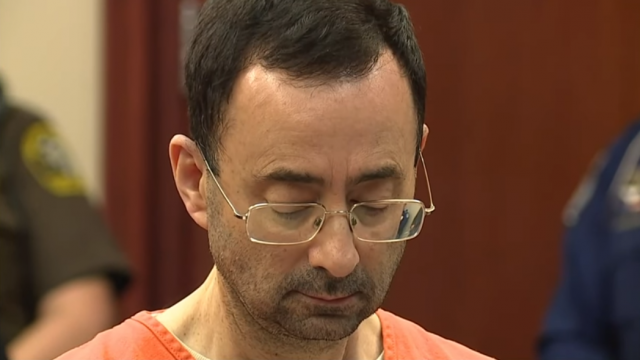 On Wednesday, pedophile and sex-offender Larry Nassar will again enter the courtroom to witness the testimony of some of his victims.  As these brave women come forward and present their victim impact statements about the revolting abuse to which Nassar subjected them, we will collectively attempt to find solace in what is bound to be a whopper of a prison sentence. But as we wring our hands, we need to ensure that in our anger toward this vile and twisted predator, and our questioning about how we can protect our children, we do not obscure an equally important query. What did those around Larry Nassar do to enable him? At the center of that inquiry is a lawsuit aimed at Michigan State University – the college that employed Nassar and the campus he used as his sadistic lair.
As Larry Nassar is about to take up residence in a well-deserved prison, MSU's long march to accountability is just starting. 140 plaintiffs have filed a federal lawsuit against MSU, alleging that the school violated Title IX of the Education Amendments of 1972, 20 U.S.C. §1681, and 42 U.S. C. §1983 with its "deliberate indifference before, during, and after the victims were sexually abused. It also alleges plain old negligence for MSU's failure to supervise Nassar. The 230-page Complaint is highly disturbing, to put it mildly. It details the plaintiffs' allegations in revolting detail and in alarming similarity. Nassar, working as a doctor for MSU, "treated" young girls by repeatedly groping and digitally penetrating them under the guise of "sports medicine."
Most of MSU's arguments in the motion to dismiss are standard legal fare: the statute of limitations has run, the school is immune from civil liability under state law, the plaintiffs failed to file the necessary notices within the statutory guidelines, and the victims lack standing, because they weren't MSU students. These arguments are primarily procedural, and any defense lawyer doing his or her job would have had to raise them.
However, MSU also offered up some substantive defenses that are as offensive as they are absurd, namely: 1) that it didn't really receive enough complaints to know it should be worried about Nassar; and 2) that any complaints it did receive were handled appropriately. Putting aside the logical problem presented by MSU's argument – that MSU either did or did not receive complaints, and that both defenses cannot simultaneously be true – the school's willingness to make such arguments is proof positive of the exact mentality that allowed Nassar to victimize hundreds of girls.
Let's put aside what so many of us have always known – and what many more of us have learned since #MeToo became a thing – when a sexual predator abuses scores of victims, those around him usually had strong suspicion, if not outright knowledge, of his behavior.   We also know that many of those bystanders choose to stay silent do so because of everything from uncertainty to fear to plain self-interest. Those enablers, complicit by way of inaction, cannot always be held to legal accountability. But when the willfully blind – or worse, the silently informed — is a college at which the predator is employed, the law empowers his victims to say, "you should have protected me."
MSU isn't responsible just because it should have known it was employing a criminal. It is responsible because it did know. MSU didn't just turn a blind eye to rumors and rumblings – it ignored actual reports of sexual violence against children. If even a fraction of the 230-page Complaint is true, reports were made starting back in 1999. MSU took exactly zero action until 2016, when Rachael Denhollander filed a criminal complaint against Nassar for sexually assaulting her when she was 15 during "medical treatment." In other words, the school waited until it had no plausible deniability, and fired Nassar decades too late.
Nestled in its Motion to Dismiss, MSU makes the most offensive argument yet: these plaintiffs can't sue under Title IX, because head coaches and athletic trainers don't count as "appropriate people" to whom a victim could report.  Title IX requires that plaintiffs have given "notice to an appropriate person," a requirement that certainly makes sense. A school can't be reasonably expected to know everything that occurs on its grounds, after all. Nassar's victims, though, didn't simply report to their friends or even their parents – they reported to head gymnastics coaches and athletic trainers. MSU's argument? That because those coaches or trainers couldn't have fired Nassar, they don't count.
I know. You may need a minute to let that sink in. The school is saying that even though it ignored signs that a serial predator was victimizing young girls on its campus for decades, and even though those girls reported the abuse to the exact MSU employees with whom they interacted, the school has no liability because of the way its HR chart is organized. Sickening.
Here's what one plaintiff alleged:
She told a high-ranking trainer what had happened. That person told her that the treatment sounded "unusual," but that she'd need to speak to an even higher-level trainer.

She did just that, but when she recounted her tale to the department supervisor, the supervisor told her that what had happened was not sexual abuse, that Nassar was a "world-renowned doctor," and that the she was not to discuss what happened with Nassar.

And get this – the supervisor told the girl to continue seeing Nassar for this "treatment."
Other plaintiffs also told similar stories of having reported the abused, only to be told by school officials that Nassar's touching had been "medically appropriate," and "not of a sexual nature." Following these complaints, MSU allowed to continue his private exams of young girls, and simply instructed him to have a chaperone in the room if an exam required him to work with "sensitive areas." In other words, he was on the honor system.
As a lawyer, I get it. Litigation and the adversarial legal system mean that a defendant throws up any defense possible and lets "the system" sort it all out. I spoke today with Misty Marris, an expert in handling Title IX cases just like these, who explained:
"In a case like this, with so many people and so many unique claims,  these motions are used to narrow the claims.  We will probably see some of the claims be thrown out based on statutes of limitation. However, there is no question that many of these claims will survive a motion to dismiss.  This was likely why these matters went to mediation before motion practice.  The school tried to settle them but was unable to do so. Now, its a matter of raising any and all viable legal arguments. 

It shocks the conscious that this could go unnoticed by the school for decades with over 140 alleged victims. However, from a legal perspective, a valid legal argument is that the incidents were not properly reported."
Still, it's time for us to demand better. If #TimesUp now in Hollywood, it should have been up decades ago over at MSU. I have no doubt that there are many good people at MSU who are deeply troubled by Larry Nassar's crimes. Being troubled, though, is not enough. MSU already failed these girls many, many times. The time has come for MSU to take a tough look in the mirror and get comfortable with its culpability for crimes committed against children it should have protected. It won't be easy, but I can guarantee that when MSU begins to see the shape of accountability, it will not look like a Motion to Dismiss.
Follow Elura on Twitter @elurananos
This is an opinion piece. The views expressed in this article are those of just the author.
Elura Nanos - Columnist & Trial Analyst, Law & Crime; CEO Lawyer Up