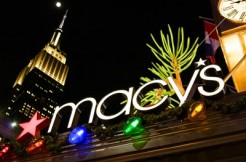 Macy's used to practice what's called in-store civil recovery. Now, a Manhattan judge has issued a preliminary injunction against it after one woman sued.
Samya Moftah visited the Macy's Harold Square location on July 11, 2015, according to an affidavit obtained by LawNewz.com. You know the spot. It's the same one linked to the Thanksgiving Day parade, and the film Miracle on 34th Street. She claimed to walk in with two shopping bags with items she already purchased. One bag from Macy's, the other from J.C. Penney. She wanted to exchange some clothes for a different size.
Well, an employee "grasped" her arm when she was about to leave the store, and accused her of shoplifting. Despite her claim she didn't, that employee and two others brought her to a basement-level "enclosed area where there was a long counter along one wall and small rooms that looked like jail cells along the other wall." They allegedly "snatched" her purse and a shopping bag, patted her down, then put her in a cell. She said she was mocked on the basis of religion, with one male employee allegedly saying "you are Muslim and stealing on Ramadan." After some alleged badgering, employees took her credit card, and charged her $500. The items she allegedly stole cost only $100 altogether.
Moftah later sued, and a recent development is favoring her. As mentioned before, a Manhattan judge issued a preliminary injunction against the practice of in-store civil recovery. With this ruling, Macy's is prohibited from demanding confessions and payments from alleged shoplifters they hold in custody.
Macy's actually has power to detain people under New York State law: General Business Law §218 and General Obligations Law §11-105. But Judge Manuel Mendez said the company overstepped its bounds.
Here, Macy's treads on a thin line between permissible and impermissible behavior when it implements the power it has been given under the statutes. Defendant has taken the authority granted to it under GBL §218 to detain an individual for shoplifting, and has combined that with the authority it is given under GOL § 11-105 to collect civil penalties from an individual suspected of shoplifting. These statutes as allegedly applied by defendant are being used as a double edged sword, instead of a shield. A suspected shoplifter is given no opportunity to otherwise object, have a hearing, or receive guidance from counsel before signing a confession to shoplifting, and/or agreeing to pay civil penalties because the civil penalties, are being demanded at the time the individual is under detention by Macy's.
Macy's ended in-store recovery civil recovery for stores in 2015, Jim Sluzewski told The Guardian. He's Macy's senior vice-president of corporate communications and external affairs. LawNewz.com sent requests for comment to him and other representatives, but have yet to hear back. We will update if there is a response.
Reading the full decision, obtained by LawNewz.com, here:
Decision on Preliminary Injunction by LawNewz
[h/t The Guardian]
–
Follow Alberto Luperon on Twitter (@Alberto Luperon)
Have a tip we should know? [email protected]