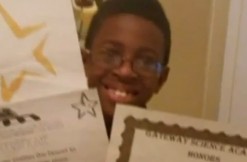 A decades-old law written to protect education for black children is now keeping one kid out of his preferred charter school. Edmund Lee, a third-grader in St. Louis, Missouri, might no longer return to Gateway Science Academy because his family plans on moving across county lines.
The reason shook his mother, La'Shieka White. "I was crying," she told KTVI. Thing is, local rules do allow St. Louis County residents the chance to attend city charter schools, but they have to live in a district that's part of a transfer program.
And they can't be African-American. In other words, Lee could've still gone to Gateway if he'd been white. He can still finish the school year at Gateway, but with things as they are now, he's gone come summer.
Lee's problem stems from a 1980 Court of Appeals ruling, said the Missouri Department of Elementary and Secondary Education in a statement. St. Louis City and St. Louis County were accused of maintaining segregated schools. A 1983 reform made it so black kids could transfer to mostly white school districts, and for non-African American kids to go to St. Louis schools.
"The goal was to try to balance the racial makeup of the city and county schools," the DESE said. They said there are no state laws or DESE regulations "specifically preventing" black kids from transferring schools.
After the Supreme Court's ruling Brown v. Board of Education, segregation in schools was declared unconstitutional under the 14th Amendment. That was back in 1954, and despite initial (and violent) resistance states, have pretty much learned how to obey the ruling. Safe to say, probably none of the reformers anticipated Lee's problem.
White is fighting this with a petition. Over 69,000 people have signed it as of Sunday.
"To not see his face in the halls next year would be extremely said," said teacher Tiffany Luis to KTVI.
White hopes her petition could promote fairness across the board. "The only thing I would really like out of this whole outcome are that the guidelines be revised for all children," said White. "I don't think a factor of race should determine if a kid should be able to go to school or not, or the guidelines should have some leeway for how to deal with situations like this."
[h/t New York Daily News]
[image via KTVI screengrab]
–
Follow Alberto Luperon on Twitter (@Alberto Luperon)
Have a tip we should know? [email protected]