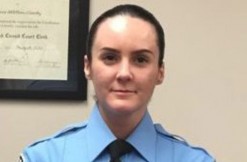 A domestic violence call in Virginia has left one cop shot dead, and two others injured. The officer who passed away, 28-year-old Ashley Guindon, was actually working her first day on the job, while her alleged killer is an Army staff sergeant assigned to the Pentagon, police say.
Guindon had been sworn in as an officer for the Prince William County Police Department on Friday. On Saturday, Army staff sergeant Ronald Hamilton, 32, allegedly shot Guindon, and two other cops—Jesse Hempen, 31, and David McKeown, 33. He is also alleged to have murdered his wife, 29-year-old Crystal Hamilton, during the same incident.
Police said the couple's 11-year-old son was also in the house, but was unharmed.
Ronald Hamilton was arrested and is being held without bond. He faces charges including capital murder, and first-degree murder, police say. If convicted, he could get the death penalty. That process will play out in court, beginning with an arraignment scheduled for Monday.
Hempen and McKeown remain in stable condition, and are expected to survive, police said.
Guindon previously interned for the department. She also served in the U.S. Marine Corps Reserve for about six years, and earned a bachelor's degree in aeronautics from Embry-Riddle Aeronautical University.
"We were struck by her passion to do this job," said Police Chief Stephan Hudson at a press conference Sunday.
[h/t WUSA-9]
[image of Guindon via Prince William County Police Department]
–
Follow Alberto Luperon on Twitter (@Alberto Luperon)
Have a tip we should know? [email protected]