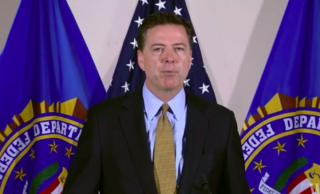 In a scathing Wall Street Journal editorial, the newspaper coined a new term for FBI Director James Comey's decision not to recommend charges against Hillary Clinton — they called it "Jim Comey's Clinton Standard."  The editorial board ripped apart Comey's rationale for not pursuing charges based on Clinton's "reckless conduct" which included sending classified emails, and using her email extensively in regions with hostile actors. But probably most shocking, at the end of the piece the board asserts that Comey may have dodged the indictment to spare us all a President Donald Trump:
The rule of law requires its natural application. We almost wish Mr. Comey had avoided his self-justifying, have-it-both-ways statement and said bluntly he could't indict Mrs. Clinton because the country must be spared a Donald Trump Presidency. It would have been more honest and less corrosive to democracy than his Clinton Standard.
To note, Comey is a Republican who before this decision was well-respected by both sides of the political aisles.  He was the United States Deputy Attorney serving under President George W. Bush.
This is an opinion piece. The views expressed in this article are those of just the author.
Rachel Stockman - President / On Air Host