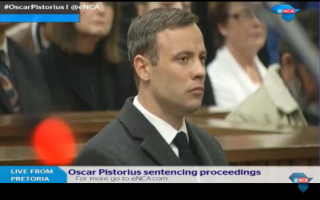 Former Olympic sprinter Oscar Pistorius, who was convicted of murdering his girlfriend Reeva Steenkamp in 2013, was sentenced by the High Court of South Africa in Pretoria on Wednesday. Judge Thokozile Masipa announced that Pistorius will serve a sentence of six years in prison.
Pistorius, a double-amputee who was nicknamed "Blade Runner" for the prosthetics he wore during races, was convicted of murder in December 2015, when an appeals court upgraded his original conviction for culpable homicide. Pistorius shot and killed Steenkamp on Valentine's Day three years ago. At the time, Steenkamp was in the bathroom, and Pistorius fired multiple shots through the bathroom door.
The prescribed minimum sentence for Pistorius' crime was 15 years, but Judge Masipa had the discretion to issue a lesser sentence based on the circumstances of the case. She stated that because Pistorius believed that there was an intruder in his home at the time, and due to him taking measures to save Steenkamp when he found her in the bathroom after firing the shots, a lesser sentence was appropriate. Pistorius, who had served one year in prison after his culpable homicide conviction, had originally been sentenced to five years before the upgraded murder conviction.
Have a tip we should know? [email protected]