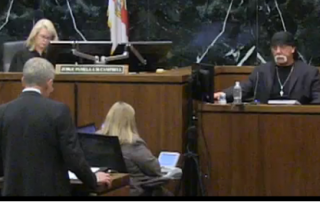 This may get confusing. Hulk Hogan, real name Terry Bollea, took the stand for the second day on Tuesday, testifying in his trial against Gawker over publication of a sex tape featuring the wrestler and the wife of his friend, radio host Bubba "The Love Sponge" Clem. Hogan said that in his life, he makes a distinction between his Hulk Hogan wrestling character and Terry Bollea the person. However, he said he's in character every time he's in public, even when not in the ring.
The wrestler said that when fans approach him, they want the character, not the person. "That's what they expect," he said.  "Fans don't usually ask me about Terry Bollea."
While on the stand, Hogan answered questions about interviews he granted about the tape after it leaked. The defense suggested that Hogan joked around about it when talking to TMZ, Howard Stern, and even Bubba. When pressed about why he seemed to be joking around about such a touchy subject, Hogan said he was answering as Hulk, not as Terry.
Hogan insisted he was embarrassed on the Stern show when the shock jock asked him about the tape, but as an entertainer on an entertainment show, he went along with the discussion. "You have to take the good with the bad." Hogan said he was on the program to promote a wrestling event, and it was his publicist's job to tell Stern what topics to avoid. When Stern addressed the controversial subject, Hogan said he was simply trying to move the conversation along as an entertainer until they shifted to another topic.
The defense played a clip from the Stern show that was recorded before the sex tape leaked, where Stern asked if Hogan would ever sleep with another man's wife. Hogan said he would never do this, even though at this point in time he had. When asked if he had lied on the show, Hogan described the Howard Stern program as "a character-driven show," so anything he said was in character, and the Hulk Hogan character makes outlandish statements and lies from time to time. As Terry Bollea, he claimed, he would not lie. He said that when he's on a radio show, he speaks in character, whether he's promoting wrestling, discussing how many women he's slept with, or talking about his penis size.
If you thought wrestling was a circus, it's got nothing on this. Stay with LawNewz.com for more coverage and live footage of the trial.
Video provided courtesy of Wild About Trial/Crime Watch Daily
Have a tip we should know? [email protected]