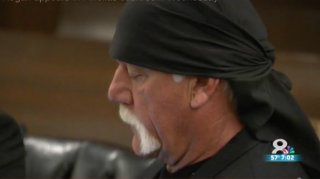 The jury trial of Hulk Hogan v. Gawker continues into its second day. Hogan testified Monday afternoon in a Pinellas County, Florida courtroom. He said that his former best buddy, shockjock Bubba "The Love Sponge" Clem  wanted him to have sex with his then-wife Heather.
As we reported earlier, Hogan, whose real name Terry Bollea, sued the website in 2012 after it published parts of a video that showed him having sex with the wife of radio shock jock Bubba the Love Sponge Clem.  The video was recorded in 2006 and according to Hogan, it was recorded without his knowledge.  Hogan's lawsuit seeks $100 million in damages for invasion of privacy.
Gawker argues that tape is protected by the First Amendment because it was newsworthy. They claim that Hogan was a celebrity that repeatedly spoke about his sex life in books and television, radio and other public appearances.
He has reached a $5000 settlement with Clem, who is also testifying later, but plans on pleading the Fifth Amendment. Here is the live stream from Day 2 of the trial which is expected to start again Tuesday morning.
[screengrab via Channel 8]
Livestream provided courtesy of Wild About Trial/Crime Watch Daily
Have a tip we should know? [email protected]
Rachel Stockman - President / On Air Host