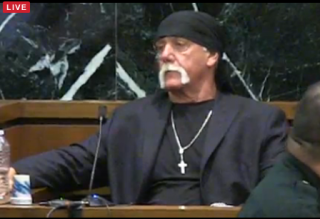 You read that correctly. While telling the courtroom about the distinction between himself and his wrestling character, Hulk Hogan, real name Terry Bollea, announced that the fictional character is more well-endowed than the real person.
Hogan says that while in character, which is pretty much always, he makes outlandish statements and acts a certain way, because that's what people expect. When he gave a radio interview with host Bubba "The Love Sponge," the same guy whose wife was with Hogan in the sex tape at the center of the trial, Hogan discussed the size of his penis. But when asked about it on the stand, he admitted that the character has different dimensions than the real person. "Terry Bollea doesn't have a 10-inch penis," he admitted.
The Twitterverse was abuzz over the revelation.
#hulkvsgawk @HulkHogan claims Hulks "little Hogan" is 10 inches, but Terry Bollea's isn't ?Wait.. what?

— Jeff Patterson (@WFLAJeff) March 8, 2016
Hogan listening to himself talk to Bubba about the size of his..Lil' Hulkamanic. #hulkvsgawk pic.twitter.com/6DdMM1GkBa

— David Bixenspan (@davidbix) March 8, 2016
"Hulk" wants it very clear on record that "Terry" does NOT have 10 inch dong #hulkvsgawk

— ib5150wi (@IB5150WI) March 8, 2016
"It's not mine, because mine isn't that size. But we were discussing the length of Hulk Hogan's [penis]." – Hogan #hulkvsgawk

— Peter Sterne (@petersterne) March 8, 2016
Sounds like living his wrestling gimmick was just an excuse to lie about his junk.
Have a tip we should know? [email protected]