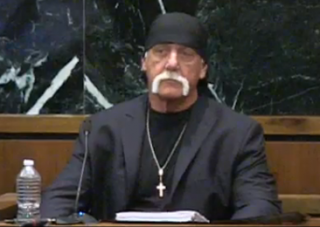 Hulk Hogan made a bold statement on Tuesday in his testimony against Gawker during their trial over the publication of his sex tape. Hogan is suing for $100 million over the tape, which features him having sex with the wife of his friend, radio personality Bubba "The Love Sponge" Clem. Hogan and Clem settled for $5,000.
While under oath, Hogan, real name Terry Bollea, stated that he is in the "Hulk Hogan" character nearly 24 hours a day when he is in public. While in character, he added, he takes "artistic liberty," and does not tell the truth. And then, there is this:
On the stand Terry Bollea admits he embellished the number of women he had sex with in interviews. HulkvsGawk -RK

— Wild About Trial (@WildAboutTrial) March 8, 2016
Hogan said he embellishes a lot during interviews, including saying he's surfed on a tiger shark and body slammed Moby Dick, and, of course, exaggerating when bragging about how many women he's slept with. Because, you know, those are the same.
You can catch a live feed of the trial by clicking here.
Check out the video:
[Video and screengrab via Wild About Trial/Crime Watch Daily]
Have a tip we should know? [email protected]