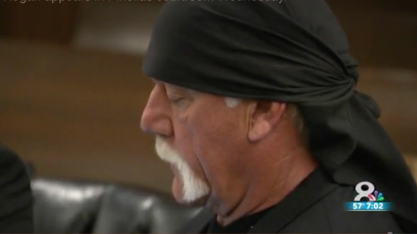 After a series of contentious pre-trial battles and a lengthy delay, jury selection is set to begin on Tuesday in Tampa, FL in the trial of former professional wrestler Hulk Hogan's lawsuit against the website Gawker.
Hogan, whose real name Terry Bollea, sued the website in 2012 after it published parts of a video that showed him having sex with the wife of radio shock jock Bubba the Love Sponge Clem.  The video was recorded in 2006 and according to Hogan, it was recorded without his knowledge.  Hogan's lawsuit seeks $100 in damages for invasion of privacy.
Gawker argues that tape was newsworthy because Hogan was a celebrity that repeatedly spoke about his sex life in books and television, radio and other public appearances.
"There's generally nothing as private as your personal sex life and the courts tend to sympathize with that information being put out there," said Catherine Cameron, the professor of media law at Stetson University, in an interview with the Tampa Bay Times.
"But if you are a public figure, and especially if you've made this part of your private life a topic of conversation, it makes it even more difficult to argue that it wasn't newsworthy. That seems like the hardest hurdle for Hulk Hogan to get over," Cameron said.
Prof. Jeff Swartz of the Thomas M. Cooley Law School summed up the key question at the heart of the heart of the case in an interview with ABC Action News, saying, "How far does the public have the right to delve into a public figure's private life?"
After the trial was delayed this summer, two tabloid outlets released audio allegedly obtained from the unauthorized sex tape that captured Hogan repeatedly dropping the N-word and other racial slurs about his daughter's then boyfriend.  The WWE immediately terminated Hogan's contract and removed him from the company website after the audio recordings were released online.  Hogan's attorneys have speculated that the leak came from Gawker, an accusation that the website denies.
It is still unclear how Gawker obtained a copy of the sex tape. The trial will allow cameras and we will provide a livestream on LawNewz.com starting on March 7. Stay with LawNewz.com for the latest.
[h/t Tampa Bay Times; image via screengrab]
Have a tip we should know? [email protected]