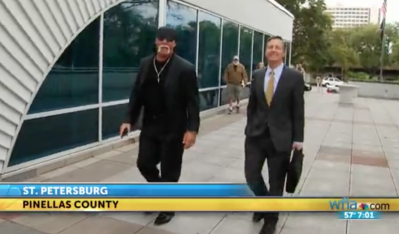 With jury selection underway on Tuesday for  Hulk Hogan's $100 million invasion-of-privacy lawsuit against the gossip website Gawker, LawNewz has reviewed the transcripts from various pre-trial motion hearings in the case and can exclusively report new details about the settlement agreement Hogan reached with Bubba the Love Sponge Clem — the man who actually made the copy of the now-infamous sex tape.
As LawNewz previously reported, Hulk Hogan, whose real name is Terry Bollea, filed a lawsuit against the website Gawker after it published clips showing Hogan having sex with the wife of radio shock jock Bubba the Love Sponge Clem. The video was recorded by concealed security cameras inside Clem's home and without Hogan's knowledge.  Clem admitted to saving a copy of the video on a DVD disc — that he claims was later stolen — and he has also repeatedly denied leaking the video to Gawker.
Clem was named as a defendant in an initial lawsuit filed by Hogan in the aftermath of the video's publication, however, Hogan quickly dismissed all claims against Clem without prejudice (meaning Hogan could refile them at a later date) as part of a settlement agreement.  The terms and conditions of that settlement agreement have never been previously disclosed, until now.
A review of the transcripts from a pre-trial hearing in the case obtained by LawNewz reveals that Hogan agreed to dismiss his claims against Clem — the man responsible for creating the now infamous tape — in exchange for only $5000.00 (yes, that is just five-thousand dollars), a public apology and a promise to no longer disparage Hogan and to cooperate with Hogan in his lawsuit against Gawker.
The issues surrounding the settlement agreement were raised at the pre-trial hearing by attorneys for Gawker who argued that the jury should be made aware of the existence of the agreement.  Hogan's attorneys argued that terms of the settlement agreement were confidential and that what had been already been stated in court came close to violating that confidentiality agreement.
At the conclusion of the hearing, the judge said that at least for now, the settlement could not be mentioned to the jury during the trial.
Opening statements in the trial begin next week and the Court will allow cameras.  We will provide a livestream on LawNewz.com starting on March 7.
Stay with LawNewz.com for the latest.
READ TRANSCRIPT:
Hogan Gawker Pre-Trial Transcript
Have a tip we should know? [email protected]