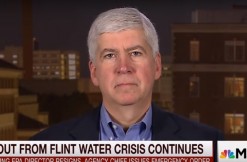 A federal lawsuit filed Monday seeks damages on behalf of residents of Flint, Michigan after their drinking water was contaminated by lead, harming children. Defendants include Michigan Gov. Rick Snyder, several other government officials, and corporations. Plaintiffs are seeking class-action status, saying the government "downplayed the severity of the contamination" and basically ignored it.
This comes after the state auditor general announced Friday that state environmental regulators botched the implementation of a new drinking water source. The Flint water scandal sparked after they changed their water system, leaving behind Detroit's in favor of a new pipeline from Lake Huron. But they'd have to use the Flint River during the transition. The state auditor general claims officials should've treated the river water with anti-corrosion chemicals—but they failed to. That corrosive water pulled lead from the plumbing system.
Lead Exposure can cause vomiting, abdominal pain, reduced sperm count, and miscarriages. It can also cause developmental delays and learning difficulties in newborns and children. No, this is not a full list of potential problems.
Seven families filed suit, including that of Melissa Lightfoot. She said her three children's have suffered from exposure to lead, causing them to lash out in anger, lose their hair, and develop rashes.
"I was scared," she told NBC News. "My kids are getting poisoned from something that's a necessity and as a parent there's nothing I can do to help them. It's already in them, I can't take it out, and there's no medicine for it."
One of her kids, Payton, has levels as high as 8 micrograms of lead.
"Lead poisoning is an insidious disease," said attorney Hunter Shkolnik. "We know the brain is permanently and irreversibly damaged but it doesn't manifest itself immediately. These children has been pushed so far down now they cannot ever achieve what was expected of them."
Ari Adler, a spokesman for Snyder, told the Associated Press the governor's office is "staying focused on solutions for the people of Flint," but also said the office wouldn't comment on pending litigation.
[h/t NBC News and Associated Press]
[image of Snyder via MSNBC screengrab]
–
Follow Alberto Luperon on Twitter (@Alberto Luperon)
Have a tip we should know? [email protected]