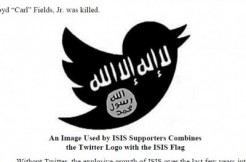 A U.S. defense contractor was killed in an ISIS terror attack, and now his widow is suing Twitter for allegedly allowing the terror group run amok, and promote itself on the social media platform.
Lloyd "Carl" Fields Jr. was killed alongside another American contractor in November by a Jordanian police captain he was training in Amman, as part of a U.S. State Department program. ISIS took credit for the attack, prompting a federal complaint filed Wednesday by the contractor's widow.
The suit was filed by Tamara Fields, who alleges the "murder of her husband by an ISIS operative." It stated the social media site knowingly let ISIS rip through with tweets, using their accounts to build online presence, and plan attacks.
The complaint says: "As of December 2014, ISIS had an estimated 70,000 twitter accounts, at least 79 of which were 'official', and it posted at least 90 tweets every minute." The terror group has used the site to find new recruits, raise cash, and reach each other through the Direct Message function. The suit noted one account as having almost 20,000 followers in June 2014.
"Without Twitter, the explosive growth of ISIS over the last few years into the most feared terrorist group in the world would not have been possible," the suit stated.
It isn't clear how many ISIS-related accounts remain online, but the suit mentions pressure from the feds on Twitter's response, or lack thereof. Plus, it cited problems with shutting down terrorist accounts. For example, anytime a user on the site might have an account shut down, that person could easily just start another account with a new Twitter handle.
A Twitter spokesperson responded in a statement Wednesday, arguing that the lawsuit carries no weight, although "we are saddened to hear of this family's terrible loss." There is no place for violent threats and "promotion of terrorism" on Twitter, the spokesperson said. Twitter apparently has teams "investigating reports of rule violations," and they are working with organizations and law enforcement to squash terrorist content.
[h/t NBC]
—
>> Follow Alberto Luperon on Twitter (@Alberto Luperon)
Have a tip we should know? [email protected]