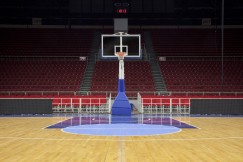 Three high school basketball players were arrested for raping a teammate with a pool cue, but the principal only called these gross acts, "a violation of team policy."
The alleged attack happened Dec. 22 in a cabin at Gatlinburg, Tennessee. Players of the Ooltewah High School basketball team were rooming there for the Smoky Mountain Classic tournament.
The older boys are accused of hazing all the freshmen. Several upperclassmen went to where the 15-year-old victim was sleeping, and allegedly ambushed him. The freshman fought back, but that only made the beating more intense.
Where were the coaches? Shopping, a source told The Daily Beast. Coach Andre Montgomery and Assistant Coach Carl Williams were apparently going out for groceries. That took two hours, plenty of time for awfulness to bubble up.
When the coaches came back, the freshman told them what happened. This set off Montgomery, who chewed out the whole team.
The freshman, who had gone back to sleep, allegedly woke up to a terrible incident. The two sophomores and a senior allegedly pinned him down and violated him with a pool cue. A fourth teammate, instead of trying to stop it, apparently recorded it with his phone.
But this isn't the kind of attack that could stay secret. Coach Montgomery brought the boy to LeConte Medical Center, while Gatlinburg Police soon arrested the three alleged basketball rapists.
The freshman collapsed in a pool of his own blood, sources told The Daily Beast. The pool cue had broken off inside of him, and had to be surgically removed.
Sevier County prosecutors hit two of the boys with one count of aggravated rape and one count of aggravated assault, but they might upgrade that to four counts of aggravated rape for both boys, and multiple counts of aggravated assault for all three of the alleged attackers.
Two of the three boys remain in juvenile detention in Sevier County while the third was released. The boy who recorded it all was reportedly interviewed by police, and he could still face criminal charges.
And almost as maddening as the allegations was the school's apparent lack of response. Principal Jim Jarvis told WRCB that "a violation of team policy did occur," and "It is currently under investigation and will be dealt with."
But though the three alleged attackers were quickly dismissed, the team kept playing anyway for three more games. It took the county superintendent, Rick Smith, to go ahead and end the season. Coach Montgomery was recently demoted to sorting books at a depository; he can't step onto school campuses anymore. But Smith insists it's just a "transfer," not a punishment.
The three defendants are scheduled to appear in court, Jan. 26 in Sevier County Juvenile Court.
[h/t Daily Beast]
–
>> Follow Alberto Luperon on Twitter (@Alberto Luperon)
Have a tip we should know? [email protected]