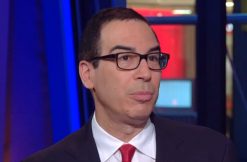 Steven Mnuchin, the nominee for Secretary of the Treasury, was sued Thursday for alleged fraud. RKA Film Financing claims that he and several other defendants inappropriately moved cash into a bank he ran.
In the complaint obtained by Variety, plaintiffs claim that the day after Mnuchin resigned from the board of Relativity Media, money meant for the film distributor started getting moved to OneWest Bank. That's where the Trump nominee was chairman and CEO.
"To be sure, Mnuchin's resignation from Relativity's Board a single day before this misappropriation was intended to make the 'sweeps' look legitimate," plaintiffs argue. They say OneWest didn't lose money when Relativity declared bankruptcy, though other creditors lost fortunes. All told, RKA claims they lost over $80 million in deals over the films Before I Wake, Masterminds, Solace, and The Disappointments Room.
This is actually an amended complaint filed in the New York Supreme Court.
"The claims against Steven Mnuchin are the same frivolous claims that were previously rejected by the court," Mnuchin spox Barney Keller told the outlet on Friday. "RKA never once spoke with, corresponded with or otherwise dealt with Mr. Mnuchin. RKA's allegations are preposterous, don't deserve coverage in Variety, and Mr. Mnuchin's inclusion in this complaint is gratuitous and insulting."
The Senate Finance Committee's vote on Mnuchin's nomination was delayed indefinitely on Tuesday after Democrats refused to participate. They say Mnuchin wasn't forthright in his confirmation process about his total assets, and how OneWest dealt with home foreclosures.
[Screengrab via CNBC]
Have a tip we should know? [email protected]