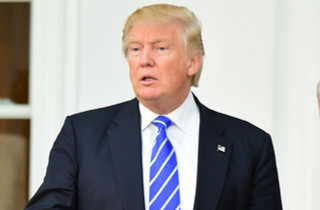 On Sunday, President Donald Trump said the Friday ruling against his travel ban might cause a terror attack, so he's singling out U.S. District Judge James Robart.
Just cannot believe a judge would put our country in such peril. If something happens blame him and court system. People pouring in. Bad!

— Donald J. Trump (@realDonaldTrump) February 5, 2017
I have instructed Homeland Security to check people coming into our country VERY CAREFULLY. The courts are making the job very difficult!

— Donald J. Trump (@realDonaldTrump) February 5, 2017
Robart temporarily blocked the ban after Washington State sued.
"The state has met its burden in demonstrating immediate and irreparable injury," he said. The Washington Attorney General argued that Trump's Executive Order, which bans citizens from seven Muslim-majority nations, is driven by anti-Islam sentiment.
An appellate court ruled early Sunday against the Administration's demand for an immediate reinstatement of the order.
This policy has met stiff legal challenges. Five different courts issued partial stays shortly after it was issued. Nonetheless, this Administration has had at least one victory, and no one has ruled it unconstitutional. In a decision that contradicts Robart's, a federal judge in Boston declined on Friday to renew an earlier restraining order, saying the executive and legislative branches have a lot of power to make immigration decisions.
The Executive Order is intended to keep terrorist operatives out by temporarily banning citizens from Iran, Iraq, Libya, Somalia, Sudan, Syria, and Yemen. In December 2015, then-candidate Trump called for the United States to stop Muslim immigration nationwide, but he and his team argue have that the current policy actually has nothing to do with religion.
[image via Shutterstock]
Have a tip we should know? [email protected]