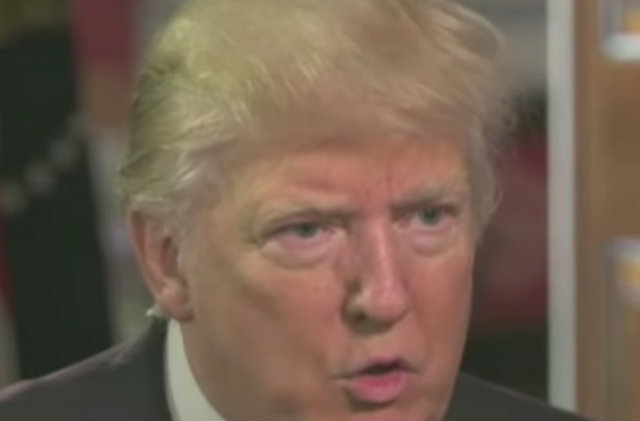 President Donald Trump signed an executive order Thursday on one of his pet projects: combating alleged voter fraud.
"The commission will review policies and practices that enhance or undermine the American people's confidence in the integrity of federal elections — including improper registrations, improper voting, fraudulent registrations, fraudulent voting and voting suppression," a White House official told reporters shortly before the order was signed.
Vice President Mike Pence will chair the commission, and Kansas Secretary of State Kris Kobach, known for his staunch support of voter ID laws, which serve as vice chair.
Trump has made voter fraud one of his recurring interests dating back to the campaign trail. When opponent Hillary Clinton seemed poised to take victory, he appeared unwilling to accept any result that didn't end with him winning because the election was somehow rigged. He didn't even put down the argument after he won the election.
In addition to winning the Electoral College in a landslide, I won the popular vote if you deduct the millions of people who voted illegally

— Donald J. Trump (@realDonaldTrump) November 27, 2016
The President of the United States hasn't provided his sourcing. Press Secretary Sean Spicer tried to defend the claim using obscure sources (LawNewz.com simply couldn't find them in a January report).
And in case you forgot, back when Green Party presidential candidate Jill Stein tried to get recounts in Michigan and Pennsylvania, which Trump won, his lawyers argued there was no voter fraud.
Voter fraud convictions do happen, but the argument is over whether this practice is widespread, and whether efforts to combat fraud are actually bigoted. Successful legal challenges to voter ID laws have claimed such statutes were implemented in a racist fashion.
The American Civil Liberties Union attacked the Executive Order shortly before it was signed Thursday. They called Kobach's policies in Kansas voter suppression. In a statement, Director of the ACLU's Voting Rights Project Dale Ho said:
"As President Trump's own lawyers have said, 'All available evidence suggests that the 2016 general election was not tainted by fraud or mistake.' Signing a piece of paper will not make Trump's false statements about voter fraud true. This commission, to be co-led by King of Voter Suppression Kris Kobach, is a sham. We call on professional elections administrators, serious academics, and elected officials to refuse to participate in what will be a pretext for disenfranchising Americans.

"The United States has one of the lowest turnout rates in the developed world, and we should be doing everything we can to encourage more people, not fewer, to participate in our democracy."
[Screengrab via CNN]
Have a tip we should know? [email protected]