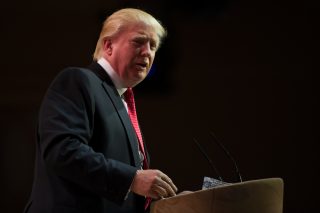 Throughout the latter stage of his campaign, Donald Trump kept saying that the system was rigged, calling into question the fairness of the election process. At the time, it seemed like a prepared excuse in case he lost. Even after winning, when it became apparent that Hillary Clinton won the popular vote by a significant margin, Trump maintained that there was rampant voter fraud, which was why his opponent finished ahead of him in overall votes.
Now that people are questioning his success, Trump and his attorneys are changing their tune. In response to recounts in Michigan and Pennsylvania that were pushed forward by Green Party candidate Jill Stein, the representatives for the President-elect said in a court filings that there was no fraud at all.
In the Michigan filing, obtained by The Washington Post, Trump's lawyers said, "All available evidence suggests that the 2016 general election was not tainted by fraud or mistake." They even turn to the White House and the Clinton camp to back them up! "Even the chief counsel to second-place finisher Hillary Clinton concedes there is no evidence of any tampering that would warrant a recount or lawsuit," the filing says, citing a post on Medium by Clinton counsel Marc Elias.
The Pennsylvania filing says that there is no evidence of any tampering in that state. Trump's lawyers argue Stein's petition for a recount, has not identified "a single Pennsylvania machine in any county, district, precinct, or ward that they actually believe was hacked," but "merely states a possibility of tampering[.]"
Trump cites Elias, Clinton's counsel, again in his Pennsylvania filing, but what's even better is that the document also cites Pennsylvania Secretary of State Pedro Cortes, who said that his state's voting systems were "secure," and that suggestions that they weren't were "wrong and uninformed" as well as "dangerous."
Ironically, as the Post points out, Cortes also spoke about this before the election, when the integrity of the election was being called into question. And, of course, the loudest voice questioning the election's integrity to begin with at that point was Trump himself.
Not surprisingly, Trump's filings don't mention this.
[Image via Christopher Halloran/Shutterstock]
Have a tip we should know? [email protected]