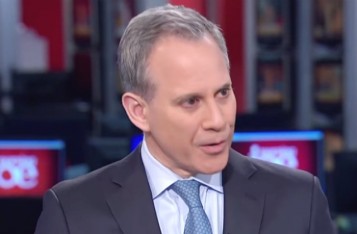 Last week, it was reported that the Trump Foundation was not properly registered to solicit funds under New York law. So, it should not come as any surprise that the New York Attorney General's Office has now announced it informed the Trump Foundation that it was not properly registered and must stop all fundraising activity, immediately. Despite what you may hear from political talking heads, there is no question that this move by the Democratic New York Attorney General Eric Schneiderman's office is simply an extension of an ongoing, politically motivated probe into Donald Trump's charity.
It has previously been reported that it is no secret Schneiderman is a Hillary Clinton supporter. Disclosures from 2015 show he donated $2,700 to Clinton's campaign, the maximum amount allowed under federal law. He also serves on the Clinton campaign's leadership council for the state of New York. As a report on the Clinton campaign recently explained, the leadership council was put together as a means of "amplifying the campaign's national voice to New York families aiding the campaign with rapid response, organization building, grassroots organizing events, recruiting volunteer leaders, and identifying leaders for Get Out The Vote activities."
Schneiderman seems to have taken this message to heart, and has even shown a willingness throughout the campaign to use his office to protect Clinton, while launching investigations against her political rivals. And the decision to open a highly publicized investigation into allegations against the Trump Foundation is simply the latest example. In fact, compared to how Schneiderman's office handled similar, if not more troubling, reports about the Clinton Foundation, this provides the ultimate example of his willingness to engage in politically motivated, selective enforcement actions.
As was mentioned earlier, The Washington Post published a report last Thursday alleging its review of records found the Trump Foundation failed to file the proper forms to solicit donations in New York. Although the existence of the Notice of Violation letter was only reported on Monday, the date of the letter indicates Schneiderman's office had decided to go forward with an enforcement action within about 24 hours of the report.
Meanwhile, Scripps News service recently published the findings of a months long investigation into tax records filed in New York state by the Clinton Foundation and its affiliated organization, Clinton Health Access Initiative (CHAI). New York law requires a charity to identify its donors and to disclose the amount of each donation it receives. Additionally, Schneiderman's own office also publishes a very detailed set of instructions that explains tax filings must include the "name of each agency from which your organization received a government contribution (grant) and the grant amount." However, the report found CHAI has failed to separately list out its contributors in its filings every year between 2010-2014. Furthermore, it has failed to list its foreign contributions as well. The result is a $225,000,000 gap between what CHAI has told the IRS it received and what it revealed to the state of New York.
When Scripps reached out to Schneiderman's office to ask about the apparently deficiencies in the Clinton charity's tax filings under New York state law, a spokesperson said the attorney general's office sees nothing wrong with the Clinton charity disclosures. The spokesperson even seemed to make excuses for the Clinton charity, pointing to remarks they previously made in response to questioning from Politifact that essentially said other charities do it too, as if that makes it OK! Finally, in what can reasonably be interpreted as an effort to give the Clinton's an out in all of this, the spokesperson added, "We intend to provide guidance clarifying our disclosure rules in the months ahead."
When Schneiderman first announced his office was opening a probe into the Trump Foundation last month, Professor Stephen Gillers, an ethics professor with the NYU School of Law told LawNewz.com that the investigation should not have been opened until November 9. Prof. Gillers explained, "Schneiderman should have waited until November 9. Whatever may be his reasons for opening the investigation now, less than eight weeks before the election, to the public his motives will appear highly partisan."
With the announcement on Monday, it is now more than clear that Schneiderman has decided to put partisan political interests ahead of anything else.
This is an opinion piece. The views expressed in this article are those of just the author.