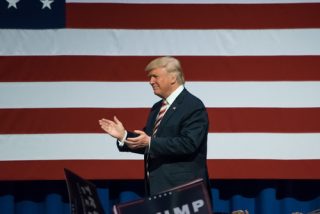 More controversy for the Donald J. Trump Foundation. Another bombshell report by Washington Post reporter, David A. Fahrenthold, found that the Foundation lacks the certification necessary to solicit money. Here's the problem. In New York, charities that solicit more than $25,000 a year from the public must get a special registration. The Foundation, according the public records, is registered as an "EPTL" (governed by Estates, Powers and Trust Law). That means they are not allowed to solicit donations from people within the State of New York. If they do, they must get a special kind of registration called a "7A."
The Post found several examples of where the Foundation was soliciting money from people, most likely some of whom lived in New York. In fact, Fahrenthold claims he donated $10 himself to try to figure out where the money was going.
In March, I donated $10 to @realDonaldTrump's fundraiser for vets. $ went to Trump Fdn, not registered to solicit $. pic.twitter.com/hRq5FWvtjJ

— David Fahrenthold (@Fahrenthold) September 30, 2016
Here's what showed up on the card statement. Again, @realDonaldTrump Fdn not registered to solicit $ w/NY state. pic.twitter.com/9hfMhXjtzv

— David Fahrenthold (@Fahrenthold) September 30, 2016
The Post explains that prior to the 2000's, the Foundation was properly registered as is because it only accepted money from Donald Trump himself. However, when they started to take outside donations, experts contend they should have re-registered under the proper law.
"You wouldn't expect somebody who's supposed to be sophisticated, and brags about his business prowess, would run his foundation like this," James Fishman, a professor at Pace University's law school, told The Post. 
What could happen? Well, we know the New York Attorney General Eric Schneiderman is investigating the charity. There is a possibility that he could take action. Violations can result in a fine or request to change registration status. In very rare cases, individuals could face a criminal misdemeanor of false registration.
So far, the Trump campaign hasn't commented on this report.
[image via Evan El-Amin / Shutterstock.com]
Have a tip we should know? [email protected]
Rachel Stockman - President / On Air Host