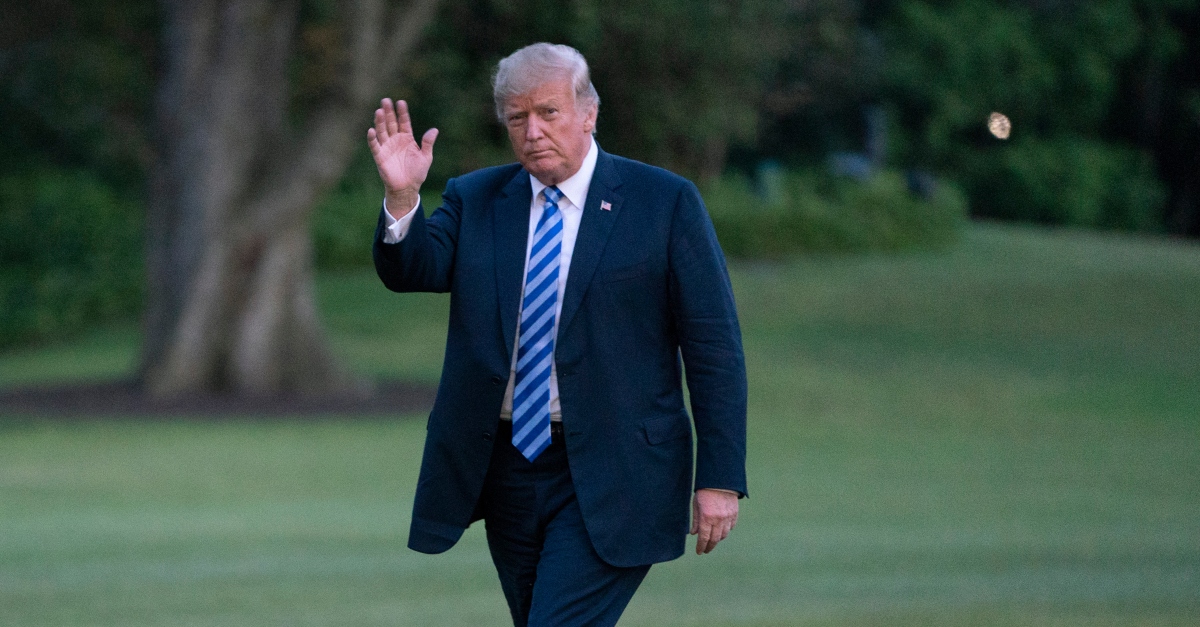 President Donald Trump, by way of his personal legal team, has filed a motion to dismiss the California lawsuit filed against him by adult film actress Stormy Daniels.
In the 21-page filing, Trump's attorney Charles Harder argues that Daniels' claim for declaratory relief "should be dismissed because it is moot and requests an impermissible advisory opinion." The filing argues, "[a]s a result, the Court lacks subject matter jurisdiction to decide this claim."
Harder's argument is premised on a covenant signed by Trump which argues: (1) that the president is not bound by the agreement with Daniels because he did not personally affix his signature to the agreement; and which (2) further stipulates that the defendant-president is not interested in pursuing any legal action or remedies in the case whatsoever. The filing notes:
Mr. Trump has covenanted that he does not, and will not, contest Plaintiff's assertion that the Settlement Agreement was never formed or in the alternative, should be rescinded, and Mr. Trump has also covenanted that he will not bring any action, proceeding or claim against Plaintiff to enforce any of the terms of the Settlement Agreement. … Mr. Trump has confirmed these covenants in several court filings.
Essentially, this covenant functions as a written promise not to sue Daniels for any alleged violation of the nondisclosure agreement (NDA)–which was signed by attorney Michael Cohen on behalf of Trump during the late stages of the 2016 presidential election.
The filing continues, arguing, "Mr. Trump's covenant renders Plaintiff's declaratory relief claim against him moot and divests this Court of subject matter jurisdiction over the claim because there is no actual controversy between Mr. Trump and Plaintiff." The motion to dismiss notes:
It is undisputed that Mr. Trump did not sign the Settlement Agreement.It also is undisputed that Mr. Trump has never taken the position that he is a party to the Settlement Agreement, or affirmatively sought to invoke any rights under the Settlement Agreement. Plaintiff recently confirmed these facts in her separate defamation action against Mr. Trump.
Later on, the motion to dismiss explicitly disavows the money amounts in question.
"[A]ny dispute between Plaintiff and defendant Essential Consultants, LLC…relating to the $130,000 that [Essential Consultants, LLC] paid to Plaintiff does not create an actual controversy between Plaintiff and Mr. Trump," the filing concludes. "Mr. Trump takes no position regarding these funds. In other words, Mr. Trump is not making any claim, and will not make any claim, to these funds."
Daniels sued Trump over the NDA in January of 2018–arguing that the agreement purportedly between the two is invalid. Trump's argument in Monday's motion is essentially an admission that the agreement is invalid. In other words, with this filing, Trump is trying to wash his hands of the matter entirely.
Law&Crime reached out to Daniels' attorney, Michael Avenatti, for comment on the filing and what bearing, if any, it has on his client's case going forward. Daniels' attorney appeared nonplussed about the development.
In a statement, Avenatti said, "We are not concerned about it for the reasons we previously stated in our filings. It will likely go nowhere."
[image via Chris Kleponis / Pool via CNP/Getty Images]
Follow Colin Kalmbacher on Twitter: @colinkalmbacher
Have a tip we should know? [email protected]