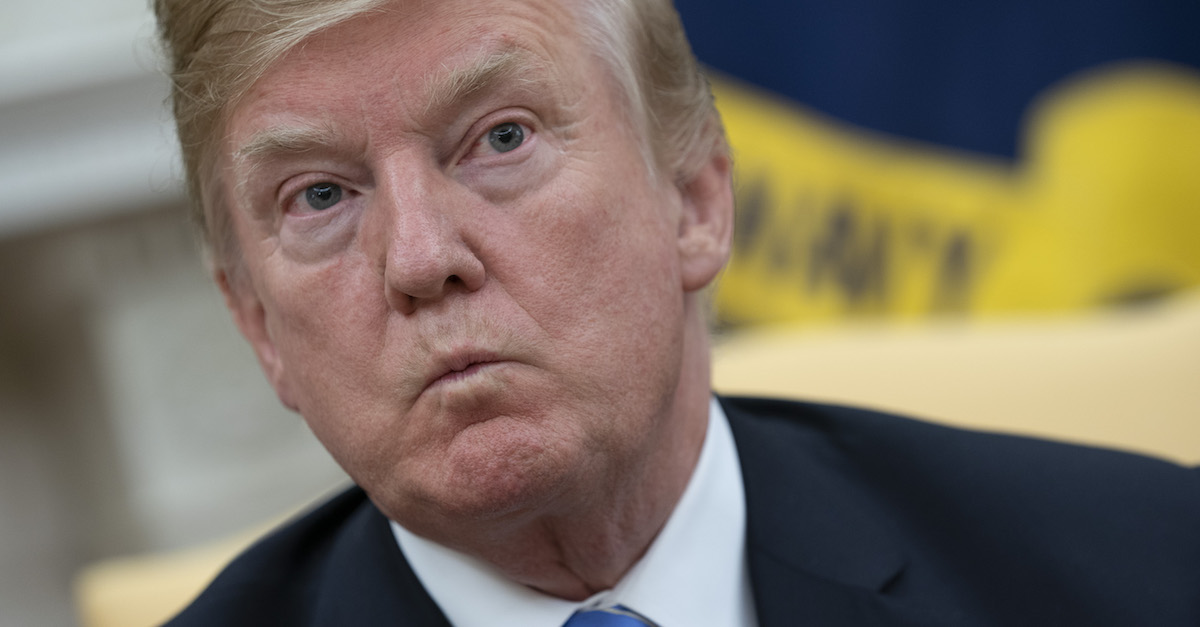 Lawyers for President Donald Trump, Donald Trump Jr., Ivanka Trump, Eric Trump and the Trump Organization filed a motion to dismiss on Monday in the United States District Court for the Southern District of New York.
Plaintiffs previously filed a lawsuit alleging a "racketeering enterprise" that preyed upon vulnerable people to get them to invest in "get-rich-quick schemes." The plaintiffs were identified only as Jane Doe, Luke Loe, Richard Roe, and Mary Moe. The complaint alleged that Trump, et al. "conned each of these victims into giving up hundreds or thousands of dollars" while they were down and out to invest in telecoms marketing company American Communications Network (ACN) and become Independent Business Owners (IBOs).
Trump attorneys have responded to the allegations by attempting to get the case tossed out.  They began by more than hinting that the plaintiffs were politically motivated progressives.
"Plaintiffs' lawsuit is funded by the Tesseract Research Center, whose president describes herself as '[a] long-time progressive strategist' and who also runs the Tesseract Group, 'a boutique consulting firm' specialized in 'developing, promoting and implementing progressive public policy,'" they note. "Plaintiffs' counsel includes the author of To End a Presidency – The Power of Impeachment (Perseus Books 2018), who also publishes a website that broadcasts Versus Trump, a weekly program "about how the Trump administration is breaking the law and what people are doing about it."
To further their case, they said the Tesseract-funded suit was filed a week before the midterm elections.
"ACN has been in business for more than 20 years. During that time, it has withstood its share of public scrutiny as a member of the 'direct selling' industry. For nine years, Mr. Trump served as a paid spokesperson and motivational speaker for ACN, appearing publicly at events across the United States," the attorneys continued. "Yet until the filing of this lawsuit (one week before the midterm elections) no one sought to sue Mr. Trump for losses she sustained with ACN."
That being said, they began responding to other allegations.
It was alleged that the Trump family received "secret payments" to promote opportunities that weren't real, and that the plaintiffs experienced the consequences firsthand. The defendants were accused of "knowingly" making "false and misleading statements" about these opportunities. The way it worked, the plaintiffs claim, is that Trump used his name (perceived brand success) and the promise of similar success to endorse opportunities with ACN, convincing plaintiffs to invest "$499 to sign up to sell [ACN] products, like a videophone and other services, with the promise of additional profits if they recruited others to join."
This happened, plaintiffs claimed, as Trump, et al. never revealed that he was being paid millions to endorse ACN. Jane Doe, for example, allegedly spent thousands to participate in ACN and learn entrepreneurial secrets, only to earn a whopping $38. It was alleged that this "scheme" took place from 2005-2015, and that Trump claimed his endorsement of ACN was "not for any money."
Trump's lawyers actually said that Trump was up front about being paid to endorse ACN, and that he wasn't just doing that for the money.
"So I'm curious about this, you know, uh, why do you keep coming back? What is it about ACN?" Trump was asked on one occasion.
"I– certainly not for any money, it's –No. For the love of the organization," he answered. "I left Palm Beach this morning and I said why am I doing it? And the reason I'm doing it is I really have a, just a special relationship with your founders. They're good people. They're hard workers. They love what they're doing. They love the people in the room."
They included other quotes about Trump's outlook toward ACN and its founders:
"[Mr. Trump] may tease about having to give up a golf game for the [ACN] event and get in his private jet to be there . . . and it's not about the money. It is about something else entirely. Light? Love? Yes, indeed, and perhaps we are now learning more about the real Donald J. Trump, and the real ACN."
"When Donald Trump was negotiating with ACN to personally endorse the company and speak at their events, he made it clear that he would not be doing it 'for the money.' He has plenty of money, so something else had to be the deciding factor. For him, it came down to the four ACN co-founders."
Trump attorneys claimed that plaintiffs were aware ACN was paying Trump for his services, but that materials also showed this was based on the relationship with ACN founders.
"[P]rint materials upon which Plaintiffs purport to rely were even more blunt about the fact that ACN was paying Mr. Trump for his services, but emphasized that his decision to endorse the company was based on more than that," documents say. "While quotations from Mr. Trump's live appearances and excerpts from ACN magazine articles consume many pages of the Complaint, no Plaintiff is alleged to have attended such an event, or to have viewed footage of them on YouTube, and no Plaintiff is alleged to have read about Mr. Trump in an ACN magazine."
Trump attorneys also said that Trump didn't always present this as a can't-lose opportunity:
"[L]ook, not everything is going to work out. I mean, I like to phrase it – they talk about the power of positive thinking. I also talk about the power of negative thinking, guard against the downside. If things didn't work out, you're still at your job. And it's one of the things I love about what they're doing here; they're not telling people, buy this . . . do this, do that, leave your job, quit, become rich and then all of sudden people have a problem. You keep your job, and a lot of the people that I met had their job for two or three years and all of a sudden they start[] weeding out of their job and going full-time into ACN because they're making more money with ACN. So I like it because it really takes the risk out. It takes a lot of the risk out of the decision. I think it's great."
Finally, the defense said that the plaintiffs "fail[ed] to plead the existence of 'racketeering activity.'"
"Plaintiffs invoke the federal mail and wire fraud statutes, alleging that Mr. Trump's endorsement of ACN on national network television and on the ACN marketing videos operated as a criminal scheme to defraud them of money or property. That assertion, far-fetched on its face, is legally untenable," Trump attorneys said. "Across 160 pages of invective directed at Defendants, personally, Plaintiffs fail to detail a single statement made to them by any Defendant; when or where such statement was made; and how such statement was fraudulent, as they must to avoid dismissal."
In total, plaintiffs alleged eight counts against Trump: negligent misrepresentation, fraud, unfair and deceptive acts or practices in violation of Pennsylvania law, unfair and deceptive trade practices in violation of Maryland law, unfair competition in violation of California law, dissemination of untrue or misleading public statements in violation of California law, conspiracy to conduct the affairs of a racketeering enterprise, and racketeering.
Team Trump is saying that if racketeering claims are dismissed "federal jurisdiction over Plaintiffs' state claims will be lacking, because no Plaintiff satisfies the $75,000 amount in controversy requirement for diversity jurisdiction, and because Plaintiffs cannot demonstrate class-wide damages of $5,000,000 or more, as required under the Class Action Fairness Act."
[Image via Chris Kleponis-Pool/Getty Images]
Have a tip we should know? [email protected]