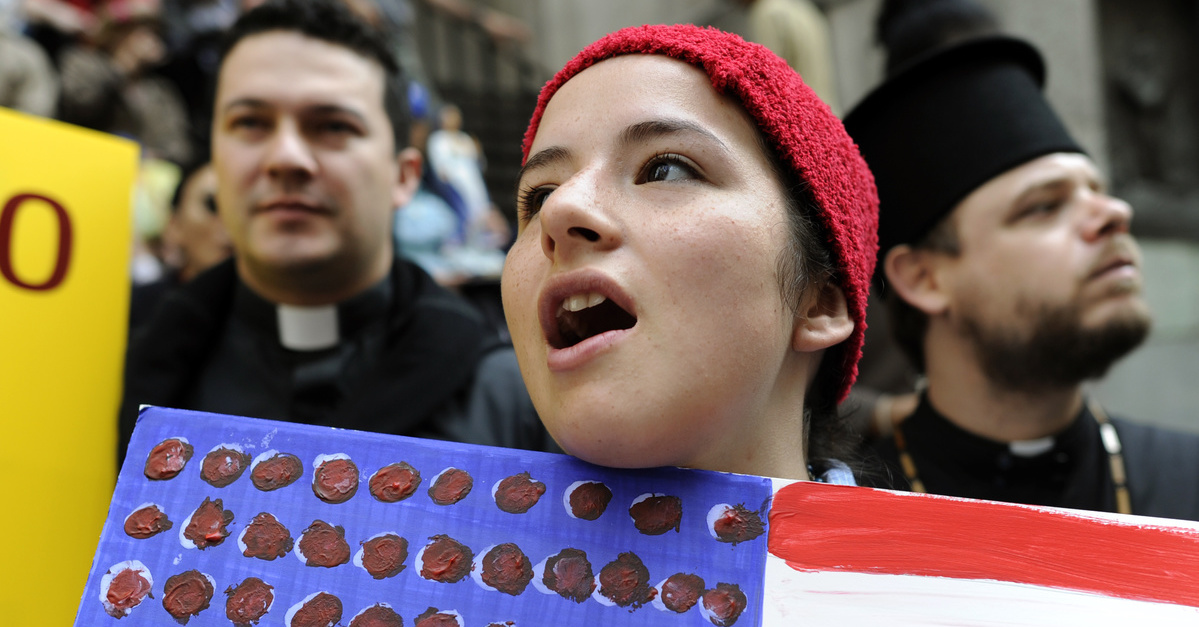 A federal court on Monday issued a nationwide injunction prohibiting the Trump administration's new rules on birth control from taking effect. U.S. District Judge Wendy Beetlestone ruled in favor of various state plaintiffs by blocking rules which would have enabled "entities with religious or moral objections to forgo providing contraceptive coverage to employees without" notifying employees.
In her 65-page ruling against various federal agencies–chief among them the Department of Health and Human Services (HHS)–Judge Beetlestone determines that the Trump administration's recently crafted rules are "arbitrary, capricious, an abuse of discretion, [and] or otherwise not in accordance with law." This is language signaling that the new rules are in violation of the Administrative Procedure Act (APA) of 1946; specifically a violation of the APA's substantive framework.
The Supreme Court has previously described this framework as follows:
[A]n agency [decision] would be arbitrary and capricious if the agency has [1] relied on factors which Congress has not intended it to consider, [2] entirely failed to consider an important aspect of the problem, [3] offered an explanation for its decision that runs counter to the evidence before the agency, or [4] is so implausible that it could not be ascribed to a difference in view or the product of agency expertise.
Here, Judge Beetlestone determined that Trump's HHS went far afield from what Congress mandated in the Affordable Care Act (ACA) vis-à-vis birth control.
"[T]he ACA provides that any 'group health plan' or "health insurance issuer offering group or individual insurance coverage shall, at a minimum provide coverage for 'preventive care and screenings,' the opinion notes. "On its face, the [ACA] does not contemplate exceptions or exemptions to the 'preventive care' coverage mandate—much less delegate authority to [HHS] to create such exemptions. Rather, the statute directs that all specified health plans and insurance issuers 'shall' cover 'preventive care,' however defined."
So, where did Trump's HHS get its authority to fudge the contraceptive mandate? Beetlestone suggests it was culled from whole cloth:
Effectively, [HHS]' argument is that the statute authorizes them to carve out, contrary to the express remits of the statute, categories of entities who need not provide preventive care coverage. But such a grant of authority is inconsistent with the statute's text. Congress has already answered who must provide preventive care coverage: any "group health plan" or "health insurance issuer offering group or individual insurance coverage." To permit the Agencies to disrupt this mandate contradicts the plain command of the text.
Monday's court order follows a Sunday night preliminary injunction filed by Judge Haywood S. Gilliam Jr. of the United States District Court in Oakland but differs in one key aspect: Judge Gilliam's ruling only affected 13 states and the District of Columbia.
The court's Monday night ruling mandates a nationwide bar on the application of the Trump administration's new rules.
Judge Beetlestone also explained why a nationwide ruling was better and necessary here:
An injunction limited to [certain states] would, by its terms, not reach.. citizens who work for out-of-state employers. Despite residing in the States, those out-of-state workers could lose contraceptive coverage if the out-of-state employers took advantage of the exemptions included in the [Trump administration's] Rules, resulting in proprietary harm to the States. Nor would an injunction limited to the States cover out-of-state students attending school in [other states], who may not be considered "residents" of the States. Such students, by remaining on their parents' out-of-state employer-based health plans or other health insurance through their State of "residency," could lose contraceptive coverage but still turn to in-state publicly-funded clinics for contraceptive coverage. Put differently, "an injunction that applies only to the plaintiff states" would not "provide complete relief to them" because it would not "prevent the economic harm extensively detailed in the record."
[image via TIMOTHY A. CLARY/AFP/Getty Images]
Have a tip we should know? [email protected]